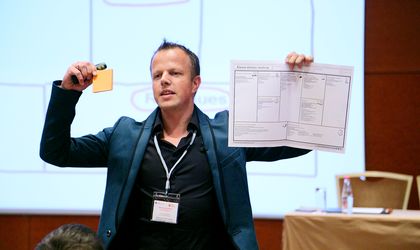 Patrick van der Pijl is CEO & founder of Business Models Inc. and producer of the bestseller 'Business Model Generation' written by Alexander Osterwalder and Yves Pigneur. He facilitates the formulation of new business model strategies in in international organizations and is specialized in business design and innovation, strategic visioning, visualization and graphic facilitation. Business Models Inc. is also based on a new business model for consulting.
1. Why did you choose Romania for launching here the Central and Eastern Europe regional office?
Eastern Europe and Romania is a growth region when it comes to new business. It is a very new and exciting market. There is an amazing energy for exploration of new opportunities and a strong will by young entrepreneurs to change the game. We want to be part of that. We also found a great team in Romania with whom we share the same values and ambition and a new way of doing the consulting job: co-creation-consulting with a strong focus on achieving results and facilitate graphically without writing reports.
2. Why are business models changing?
We live in a time where little is predictable. Large profits and growing market shares are over. The majority of organizations navigate in a space where competitors appear overnight, customers demand innovations monthly and business plans rarely last a full year. Organizations have to continuously change their business model. Five trends that make business modeling highly relevant nowadays:
1. From 'Ownership' to 'access to'
Ownership is no longer priority, the 'shared economy' is becoming more common and growing. We listen to music with Spotify, watch movies with Netflix (subscription model) , share our car with Car2Go, our homes with Airbnb. We will be seeing this business model in other business sectors as well. What if your client wants to use your product, but does not want to own it?
2. 3D printing: The new industrial revolution
The 3D printing techniques become more sophisticated and developments in this area go very fast. In the coming years we will be increasingly designing and producing our own products, as Chris Anderson writes in his book 'Makers: the new industrial revolution'. We are all designers. What does it mean for your business model if your customers print – your or their own – products?
3. Think like a startup (or cooperate with them)
Innovative ideas do not come from the large organizations, but from startups. They can switch faster and see more opportunities. Investors keep their eyes open for the best ideas.  What does this mean for existing organizations? You don't have to invent everything yourselves, cooperate with them! Which startups could be a great opportunity for your organization?
4. Mobile!
Even though we increasingly go on a 'digital detox', mobile will be come more and more important in the coming years. We are now reading the news and books on our cellphone, but soon we are going to shop and pay with it, and add all sorts of features (such as house keys or medical advice). How can your organization offer products and services via mobile in order to stay relevant to the customer?
5. Business & Design
The context in which organizations operate is increasingly complex. Large advisory reports often bring no clarification. By using design thinking techniques and visual tools (like the Business Model Canvas), complex strategic issues can be made understandable (not only for management, but for the whole organization, and commitment and innovation power increases. Design and business will therefore be increasingly mixed together in the future. How can you use design thinking in your organization, and make strategy and innovation fun and more efficient?
3. Which sector do you find appealing to start a business? Why?
There are a lot of sectors appealing to launch a business. I am excited to see what will happen in health care where we become our own doctors through mobile apps and understanding our bodies so much better even than the doctors do. This will boost new business models and I hope it will improve our health as well! It's interesting to see how traditional business models are changing. This is happening in many, almost all, business sectors. From the music industry to lawyers, from retail to financial services, both B2B and B2C. This gives startups unique opportunities. Even in sectors where you least expect it, there is a lot of work to do. With the business model of our own organization we also change the traditional market of consultancy.
Oana Vasiliu