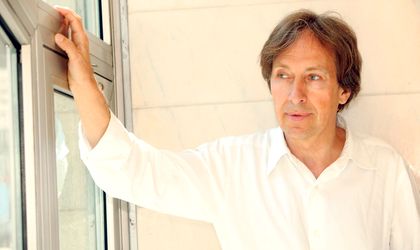 The famous French writer Pascal Bruckner has come to Romania to launch his latest book, The divine child (Fiul cel bun, in Romanian), a novel of prenatal rebellion, as the author presents it. The novel is also autobiographic, while it describes his violent father.
"The origins of the book are interesting. Three years ago I was having lunch with one of my editors, who asked me very naturally what is from my story. So I began to tell my family situation, a story that I haven't said it before to nobody. Later this event, when I was at my father's funeral, the same editor and friend told me that now I have to write about your family", told Pascal Bruckner at the press conference that took place on June 12 at Carturesti Verona Bookstore. The book can be found at Editura Trei and costs RON 29.
Moreover, the French author will be present at the premiere of Bitter Moon movie, directed by Roman Polanski, a film made after Bruckner's book Lunes de fiel (Bitter Moon). The event starts at 22.00 at Cinema Elvira Popescu.
Bitter Moon is a 1992 Franco-British-American romantic thriller film starring Hugh Grant, Kristin Scott Thomas, Emmanuelle Seigner and Peter Coyote, who present the story of British couple Fiona and Nigel Dobson, who are sailing to Istanbul en route to India. They encounter a beautiful French woman, and that night Nigel meets her while dancing alone in the ship's bar. Later he meets her crippled American husband Oscar, who tells him their story. While living in Paris for several years trying to be a writer, he becomes obsessed with a woman he met by chance on a bus. He tracks her down and they start a steamy love affair. Soon Oscar finds himself enslaved body and soul by her love, and continues to tell Nigel the details of this relationship in various stages over a number of visits to Oscar's cabin.
On Saturday, June 14, Pascal Bruckner will have a press conference regarding family theme, from 16.00, and then an autograph session, at the French Institute.
Oana Vasiliu