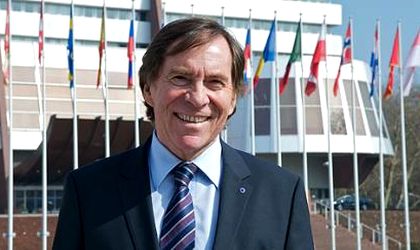 Jean-Claude Mignon, President of the Parliamentary Assembly of the Council of Europe (PACE),  makes an official visit to Romania from 25 to 26 February 2013.
On the first day of the visit, Mr Mignon will meet Prime Minister Victor Ponta as well as the Minister for Foreign Affairs Titus Corlăţean.
At the Palace of the Parliament, he will meet the President of the Chamber of Deputies, Valeriu Ştefan Zgonea. He will have an exchange of views with the members of the Committees for Foreign Affairs, European Affairs, Human Rights and Legal Affairs and the Joint Committee on the Status of Deputies and Senators. He will also attend a meeting of the Permanent Bureau of the Chamber of Deputies and meet leaders of parliamentary groups in the coalition and the opposition.
In the afternoon, the PACE President will deliver a speech before the joint chambers of the Romanian Parliament.
On 26 February, the President will be welcomed by the President of Romania Traian Băsescu. He will also have interviews with the Minister of Justice, Mona Pivniceru, and the President of the Senate, Crin Antonescu, followed by a meeting with representatives of civil society.