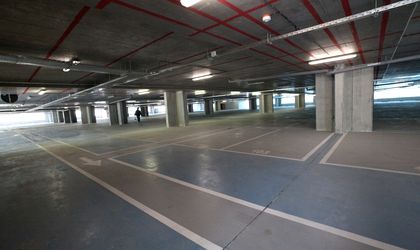 Bucharest offers cheap parking space compared to other European capitals. If you can find a spot that is. Tourists and residents alike know that parking is one of the biggest infrastructure issues in Bucharest.
While most office buildings and shopping centres in Bucharest have large enough parking lots, the municipality itself does not offer many options in this area.
1 in 2 Bucharest residents owns a car and the ratio of automobiles to parking spaces in the Romanian capital is 5 to 1, writes zf.ro.
Remarkably, the price of parking in Bucharest is very low, compared to other big cities.
Research that looked at the price of parking worldwide found that London is the most expensive city in this field. Londoners pay an average of £42 per day to rent a space for their car. The UK capital beats notoriously expensive cities such as New York, Sydney and Tokyo in the data, which looked a mixture of commercial and private spaces, according to thisismoney.co.uk.
A simple look at the cost of airport parking fees shows us how much cheaper the service is in Bucharest. Unsurprisingly, airports in London are home to some of the world's most expensive car parking spaces.
Heathrow tops the list, beating parking charges across the world to be crowned most expensive. A one to two hour stay at peak time in Terminal Four costs visitors a whopping GBP 12.
The west London airport is closely followed by London's other main airports, with a two hour stay at Gatwick or Stanstead costing GBP 10, and GBP 11 at Luton, writes londonlovesbusiness.com.
Bucharest's main airport, Otopeni, has a parking fee of RON 3  (EUR 0.75) for half an hour, which averages at about EUR 3 for two hours. A full day of parking at the biggest Romanian airport would cost RON 40 (< EUR 10).
Parking lots managed by the city council usually cost RON 1.5  / hour and operate between 9 – 17. Before or after this interval, the parking is free to use (however, there is no one to look after the cars then).
Presently, the Bucharest municipality offers over 8.000 parking spots distributed among 140 spaces. Most of the public parking lots are located downtown.
Top 3 biggest parking lots under public administration 
National Arena – 1.250 spots
Basarab Underpass – 450 spots
University Square – 425 spots (cars), 25 spots (bikes)
Bucharest residents have the option of paying an annual fee for a parking place near their place of residence. The fee amounts to RON 80 (EUR 18).
Parking lots managed by private companies cost a bit more (some of them around 5 RON / 60 minutes), however some of them are guarded, have surveillance cameras and other features.
Between 2008 and 2010, Bucharest residents were awarded 20.000 new parking spaces, on behalf of the various shopping malls opened around town.
Other commercial parking lots
Unirea Shopping Center car park
This car park adjoins the Unirea Shopping Center. It is a big car park useful for those with business downtown. It costs RON 1.5 per half an hour. A monthly subscription costs EUR 74.
Intercontinental car park
Non–stop car park, with 900 parking places. Only 150 of them are for hourly parking. It costs RON 2.5 an hour. Subscriptions vary between RON 280 and RON 420.
Romanian Athenaeum
This is also a paid car park during the day. But you can park for free at night in front of the Romanian Athenaeum (although usually during the evening you will see people helping you to park and asking for money in exchange of 'watching out' for your car).
Obor passage car park
This car park is located inside the Obor passage and it is non-stop. It costs RON 2 per hour and RON 265 to RON 380 if you want to buy a full month subscription.
In 2012, mayor Sorin Oprescu stated that Bucharest has a deficit of over 30.000 parking spots, which will triple in the very near future.
At this rate, the city council would be required to develop 9.000 new spots every year over the next decade in order to satisfy the ever-growing demand, the mayor specified.