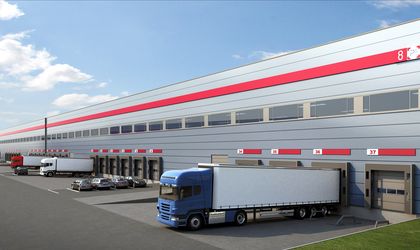 Logistics space investor, owner and operator P3 will add another 42,800 sqm of space to it P3 Bucharest park, the company announced this Thursday. This comes in addition to the 47,100 sqm of space the real estate company has already started building as part of a deal to deliver a new logistics hub for Carrefour.
Company representatives have said that the average investment in a square meter of logistics space amounts to roughly EUR 500, but overall P3 is expected to invest some EUR 65 million in the total area of 90,000 sqm. These are the first newly built and build-to-suit projects of P3 since acquiring the 215,000 sqm former Europolis Logistic Park (now P3 Bucharest) from CA Immobilien Anlagen AG at the beginning of last year.
The developer has available land bank to further add new warehouses, but says it is also looking at northern Bucharest as well as regional cities in western Romania for new projects.
The most recently announced logistics facility in Bucharest, which will comprise 41,800 sqm of warehouse space and mezzanine offices covering 1,000 sqm, is scheduled to be completed in the summer 2016. Unlike the 47,100 sqm which are already under construction, this is the first speculative development the developer would be starting locally and it a response to the demand coming from current tenants that are planning to expand their businesses in Bucharest, says the company. "It is a sign of our confidence in the market. We are talking to a number of tenants who are expressing interest in warehouse 8 but we haven't signed leases yet," said Blake Horsley, P3´s newly appointed country head for Romania.
Once the three new buildings are finished, P3's portfolio in Romania, which already includes eight warehouses at P3 Bucharest park, will increase to circa 305,000 sqm of GLA.
Read more in this month's print edition
Simona Bazavan