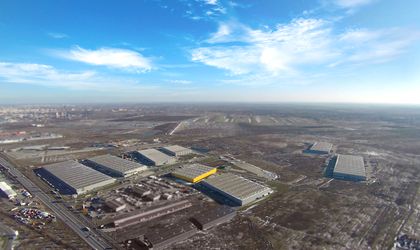 Czech PointPark Properties (P3) started at the beginning of September the construction of 28,000 sqm of logistics space as part of its P3 Bucharest park (the former Europolis Logistic Park) near the capital, the developer has announced. The speculative development is P3's first newly built project in Romania after acquiring the park from CA Immobilien Anlagen AG at the beginning of the year.
The property will be available for leasing "over the next period" according to the developer.
"The rapid growth of the Romanian logistics market has resulted in a very high demand for storage space and this has led to the vacancy rate for Bucharest dropping to below five percent," said Ian Worboys, the CEO of P3. "With the speculative construction of this building, we can provide our clients with spaces that are immediately available as well as build- to- suit solutions. This project shows the confidence we have in the Romanian market, where we are present since 2010. We want to grow and invest here," he added.
P3 Bucharest is located some 13 km from Bucharest on the A1 highway. It has a GLA of 215,000 sqm and it is fully leased at present, according to the company. The park also has a land bank of 40 hectares and enable the development of another 160,000 sqm of logistics space.
P3 is an European owner, developer and manager of logistics properties. P3's asset base comprises 144 warehouses, totaling 3 million sqm of space across nine countries and a land bank with zoning for more than 1.3 million sqm of potential development, according to its data.
Read more about the Romanian industrial market here.
Simona Bazavan