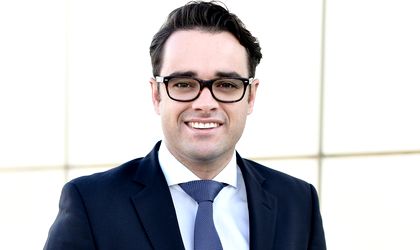 P3, owner, developer and manager of European logistics properties, has appointed Blake Horsley as country head for Romania, company representatives inform. He will oversee the company's expansion in Romania, the company seeing great potential in the local market due to its growing importance in Europe's manufacturing supply chain.
Horsley (aged 31) has 12 years of experience in real estate, with a background in investment, transactions and private equity as well as people and project management. He started his career in his native country, New Zealand. At 23 years old, he became Colliers International's youngest ever manager when he was appointed manager of the metropolitan sales & leasing teams in Wellington. From 2008 to 2013, he led Colliers International Romania investment team as the director of capital markets. Since 2013, Horsley has been the vice-president and head of acquisitions for Benevo Capital Corporation in Romania, where he will remain as a member of the board.
"We are delighted that Blake has joined the P3 team in Romania. With his extensive experience in real estate, especially in the investment area, and his managerial skills, he is the perfect addition to our team. We believe his strong expertise in the asset management, construction and logistic markets will help us to further expand our activities in Romania, where we have currently been running several developments in P3 Bucharest," Peter Becar, P3's managing director for CEE said.
P3, which is active in 12 countries across Europe, established a presence in Romania five years ago and is currently expanding its operations in the country.
The company has recently started work on its first build-to-suit development at its P3 Bucharest park since its purchase at the beginning of 2015. The project is part of a deal to establish an 81,000 sqm logistics hub at the park for European retailer Carrefour.
P3's portfolio in Romania includes eight warehouses and the two new buildings being raised will bring the company to a total of 270,000 sqm locally. Strategically located approximately 13 km west of Bucharest city centre, P3 Bucharest has the potential to provide around 114,000 sqm of new space in units ranging from 4,000 to 40,000 sqm.
P3 is active across 9 countries in Europe, its asset base comprising 145 warehouses, totalling more than 3 million sqm of space and a land bank with zoning for 1.3 million sqm of potential development.
PointPark Properties has adopted "P3" as a corporate brand and will use the trading name P3 Logistic Parks to better reflect the company's core business. P3 is owned by TPG Real Estate and Ivanhoe Cambridge.
Natalia Martian