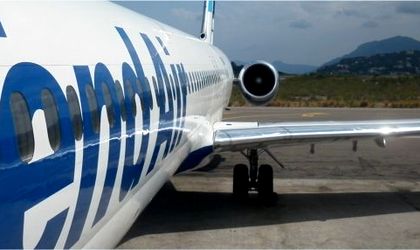 Ten Airways airline, owned by businessman Ovidiu Tender, went insolvent, the Bucharest Court having decided on Tuesday, according to Mediafax.
Tender requested the company's insolvency in late February, the first term set by the court in this case being March 5.
Tender's airline began its activity in 2010, operating in charter and wet lease system, which means lending out the aircraft with its staff and services in order to operate on behalf of another company.
Ten Airways had in 2013 a turnover of RON 43.6 million (EUR 9.8 million), over seven times more than in 2012, when the company's turnover was RON 5.9 million (EUR 1.3 million), according to data provided by the Ministry of Finance.
The company went on profit in 2013, with a gain amounting to RON 1.4 million (EUR 320.000), compared to the loss of nearly RON 800.000 (EUR 180.000) in 2012.
On the other hand, also in 2013, the company's debts have soared from RON 3 million (EUR 675.082) in 2012 to RON 21 million (EUR 4.7 million). At the end of 2013, the company had 120 employees.
Staff