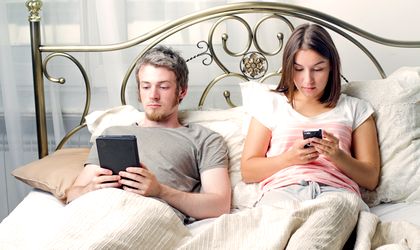 A recent study by EY shows that 62 percent of Romanian smartphone holders use the device for two to six hours daily, while two thirds check them in the morning, during the first 30 minutes after waking up.
The study called Use of mobile devices covers Romanian's perceptions and habits in using mobile devices such as smartphones, tablets, mobile phones, smartwatches or fitness bracelets. Results say that Romanians carry their devices with them and check them often, with 41 percent of the young population (aged between 25 and 35) stating they check their phones up to 200 times a day.
Romanians use smartphones (62 percent of respondents), mobile phones (23 percent) and tablets (18 percent) between two and six hours daily. Two thirds of respondents say they check their mobile device within 30 minutes from waking up, while a 29 percentage make it a top priority, before having breakfast or washing their face.
Global studies estimate an annual growth of video traffic by 55 percent by 2020, driven by video streaming services and the inclusion of more and more video content in media and advertising space. Thus, 37 percent of survey respondents view video content one to five times per week, 21 percent more than 15 video content per week, 19 percent between 6 and 10 video content, while only 14 percent of respondents do not view any video content per week.
The EY study also highlights the use of a large number of applications among Romanians, 66 percent of respondents using apps in the business category, 60 percent in the photo and video category, 46 percent in music and entertainment, with the lowest values recorded being apps in the lifestyle (28 percent), health & fitness (25 percent) and sports (17 percent) categories.
Key findings of the EY study:
– 62 percent of smartphone holders use the device between two on six hours a day;
– Two thirds of Romanians check their devices within 30 minutes from waking up, while 29 percent almost immediately;
– 41 percent of people aged between 25 and 35 check their devices over 200 times a day, followed by 26 percent of people aged 45 to 55;
– 66 percent of users have business apps on their devices, 60 percent photo and video apps and 46 percent music and entertainment apps;
– 21 percent of respondents view about 15 videos weekly on their device, 19 percent between 6 and 10 videos, 37 percent see 1 to 5 videos, while 14 percent don't access video content;
– Media and entertainment offer most satisfaction in terms of mobile content offered (63 percent), banking and financial services follow with 52 percent, IT and technology with 47 percent and telecom covers 36 percent;
– Users are less satisfied with mobile content from the domain of constructions and real estate (8 percent), leasing and insurance (4 percent) and oil and gas (3 percent).
The study is based on 1,040 responses to a questionnaire consisting of 33 questions received between June 8 to 29, 2015 from mostly urban respondents, aged between 18 and 55+ years in 31 counties.
EY is one of the largest professional services firms globally, with 210,000 employees in over 700 offices in 150 countries and a turnover of some USD 27.4 billion in 2014. EY Romania became active in 1992 and has offices in Bucharest, Cluj-Napoca, Timisoara and Iasi. Over 650 employees in Romania and Moldova provide seamless assurance, tax, transaction and advisory services business for multinational and local companies.
Natalia Martian