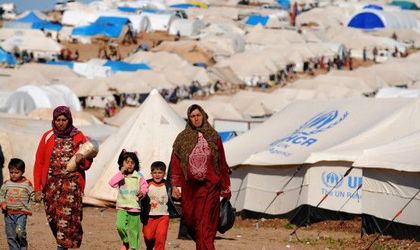 In a recent study by Inscop Research on the subject of the migrant crisis the EU is faced with, the balance seems to be leaning even more towards the rejection of migrants in Romania. The study shows that 56.2 percent of Romanians feel that our country should not receive refugees, while 35.5 percent say we should and 8.3 percent refused to give an answer.
In a study conducted by IRES at the beginning of September, 65 percent of respondents agreed (32 percent totally and 33 percent partially) with Romania taking in a share of the migrants, though 42 percent of them said they would not want refugees to stay in their locality.
In the context of discussions at European level on refugee quotas and redistribution of refugees between member states, 82.1 percent of people who said refugees should be taken in believe that Romania should decide for itself what quota it can manage. Only 14.6 percent said our country should receive the number of refugees demanded by the EU.
"Public opinion in Romania has a conservative and prudent position. It is a common position in the East European states, some of which are even more radical than Romania. The truth is that Europeans, including Romanians, have not seen the consistency and mastering of the situation one would expect from the European institutions," Darius Cristea, general director of Inscop said.
65.3 percent of respondents would not agree for refugees to settle in Romania (26.5 percent agree), while 67.1 percent don't approve of migrants living in their area (24.4 percent agree).
95.8 percent of Romanians had heard of the refugee crisis, the share going up from the IRES study, where 83 percent stated they knew about the situation.
There is a significant perception of migrants being mostly war refugees, but there are similar percentages of Romanians taking into account other motivations – from economic to some potentially subversive reasons. Thus, 41.7 percent of respondents believe that migrants gathered at the EU borders have left their countries because of war in the Middle East. 23.4 percent believe they are groups aiming to destabilize Europe, 23.3 percent believe that they come to Europe because of poverty in their country, while 5.9 percent of Romanians think that immigrants are primarily people who would prefer to live in the EU.
29.5 percent of Romanians believe to a large and very large extent that Romania could become a transit country for refugees (37 percent in a small and very small degree), while 23.9 percent think that Romania could become a destination country for refugees to a large or very large extent (44.3 percent in a small and very small degree).
The survey Public opinion barometer – The truth about Romania was conducted by INSCOP Research for Adevarul between September 10 and 15. The sample was of 1,085 people and is representative of the Romanian population 18 years and over. The method used was the opinion poll based on a questionnaire applied by interviewers at the respondents' homes, were applied in 40 counties and Bucharest, in a total of 85 municipalities (cities, towns environments, small towns and villages).
The heads of the 28 states in the EU are meeting in Brussels to discuss the European Commission's proposal to distribute migrants according to mandatory quotas, proposal which was not well received y some member states, including Romania.
Natalia Martian