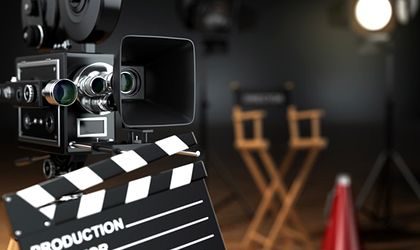 The aggregate turnover of the film industry in Romania is of approximately EUR 53 million, out of which 82 percent was generated by foreign films shot in Romania, shows a PwC Romania study.. The sector employs directly 650 to 750 film professionals and pays up to EUR 5 million in taxes to the state budget every year. 
Also, the sector has an important multiplication effect in the wider economy, generating revenues of up to EUR 149 million in sectors that are connected to the film industry. As such, the PwC study estimates the total economic impact of the Romanian film industry at approximately EUR 200 million, between 1,600 and 1,800 workplaces created and up to EUR 22 million worth of taxes paid to the state budget.
"Although Romania benefits from a film infrastructure comparable to that from the developed markets in Europe, of very gifted film professionals, widely acclaimed on the global stage, as well as very diverse film locations, which have helped us attract some significant foreign productions, the local film industry is faced with a relative stagnation in recent years. The overall costs for film productions in Romania are competitive, but the cost difference to other countries in the region (estimated at 3-5 percent) is not big enough to compensate for the lack of tax incentives that most of the countries in the region offer," stated Bogdan Belciu, management consulting services, PwC Romania, one of the authors of the study.
The state aid measures implemented by other countries in the region have lead to a rapid increase in foreign film productions within the EU countries, with the Czech movie industry reaching EUR 260 million and in Hungary the sector increasing by seven or eight times, up to EUR 230 million. The estimated value of the state aid schemes for the film industry in the EU countries is up to EUR 3 billion per year.
"A state aid scheme, similar to those implemented succesfuly for other economic sectors, could contribute to the rapid development of the sector in Romania. According to our estimates, the foreign film productions in Romania could increase by up to seven times, reaching up to EUR 350 milllion and a total aggregated economic impact of up to EUR 1.4 billion, over 5,600 workplaces and paid taxes of EUR 110-140 million. Added to this there could also be indirect benefits from promoting the country abroad and tourism development," said Mihaela Mitroi, tax and legal services leader, PwC Romania.
If such a state aid scheme would be applied, PwC estimates that it would generate budget revenues up to four times higher than the value of the subsidy, which is estimated at up to EUR 35 million per year (paid only if Romania attracts relevant and eligible film productions).
PwC is a network of firms in 157 countries with more than 208,000 people who offer assurance, tax and advisory services.
Natalia Martian