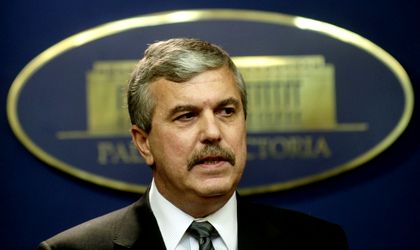 Romanian Minister of Communications Dan Nica (in picture) signed on Friday a total of 52 contracts financed via structural funds with a total value of EUR 135 million (RON 628,652,588,38).
In total, there are 52 projects of which 44 concern the implementation of Electronic Agricultural Registries in 36 counties, 5 are e-governing projects and 3 are inter-operability projects.
Prime Minister Victor Ponta and the Minister of European Funds Eugen Teodorovici attended the ceremony.
"ICT can have a major and durable impact on the whole of society. Today we have a concrete example: agriculture, administration, public resource management, the fight against corruption, the security of citizens, which are benefitting from and are transformed by ICT. Today, we have signed 52 projects that will change the way we will exploit agricultural resources, the way we interact with citizens and the way institutions interact among them," said minister Nica.
The offers for the projects were submitted during April- July 2013.
A total of 44 contracts with beneficiaries in 36 counties and a total non-reimbursable value of nearly EUR 63.8 million will be implemented to acquire an IT system for the management of the Agricultural Registry in electronic format. The beneficiaries are county councils of Arad, Bacau, Bihor, Bistrita-Nasaud, Botosani, Brasov, Braila, Buzau, Calarasi, Caras-Severin, Constanta, Covasna, Dambovita, Dolj, Galati, Giurgiu, Gorj, Harghita, Hunedoara, Ialomita, Iasi, Ilfov, Mehedinti, Neamt, Olt, Prahova, Satu Mare, Salaj, Sibiu, Suceava, Teleorman, Timis, Tulcea, Vaslui, Valcea and Vrancea. The electronic system will comprise information on each household- such as the members of the household, the surface, types of crops, number of animals in the household and agricultural equipment.
Five other contracts in value of nearly EUR 45 million will see the implementation of e-governing projects, which include cloud infrastructure for public institutions (beneficiary: The National Institute of R&D in Informatics), update of the services for citizens (beneficiary: Ministry of External Affairs), as well as an IT system for the Romanian Office for Adoptions.
Last but not least, three contracts in value of EUR 32.7 million will be implemented from structural funds, the beneficiaries being the National Agency for Integrity, the General Secretariat of the Government, and the Romanian Intelligence Service.
Otilia Haraga