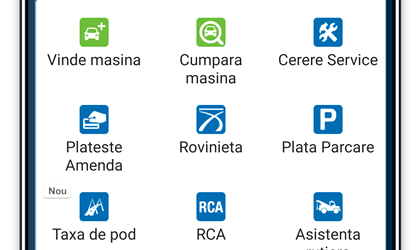 Over 20,000 drivers have paid their traffic fines using their phone, via the Auto.ro app, representatives say. Drivers using the Auto.ro app have had the service "pay the fine" available for a year, allowing them to pay their fines by credit card via their smartphone.
Some 97 percent of the drivers who used the app for payment were able to fit within the two day period allowed by law in order to pay half the amount of the fine, since the app allows transactions at any time, including weekends and outside working hours, and from anywhere, avoiding queues and travel.
The maximum traffic fine paid for through the app was RON 1,050, when paid within the two days term.
Making a payment through the app is fast and simple, the company says: drivers put in the minutes data, choose their tax domicile, pay by credit card and receive confirmation and proof of payment via e-mail. Payment is made through Libra Internet Bank, Auto.ro's partner in the process. Transactions are processed quickly and reliably and proof of payment can be obtained easily by e-mail if necessary.
"Technology enables us to accede to advanced payment services that respond appropriately to the more and more alert and dynamic lifestyle users have. The payment of the fine by mobile phone proved to be highly appreciated by users for the convenience it offers. We will continue to launch other useful payment services in the automotive field as a logical continuation to the existing suite of payment: the bridge tax, road tax, RCA, parking," said Sergiu Gamureac, Auto.ro executive director.
The Auto.ro app reached 450,000 installs on Google Play and App Store and has over 4,500 reviews. The application is free to install and provides several services to any driver using a smartphone that opeartes on iOS or Android:
– Automotive payments: bridge tax, rovignettes, RCA, parking, roadside assistance
– Service request: bids are received from service stations on request
– Car service points: gas stations, service stations, car washes, vulcanization, ATMs, etc.
– New and used cars: over 20,000 ads.
Auto.ro app for Android: http://bit.ly/up-gplay
Auto.ro app for iOS: http://bit.ly/up-iPhone
Natalia Martian