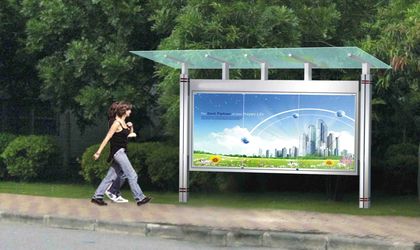 Outdoor advertising investments reached EUR 27 million (ratecard) during the first half of 2015, which represents a six percent increase year on year, show latest data from the Romanian Transmedia Audit Bureau (BRAT).
Compared to H2 of 2014, the sums registered a drop from EUR 31.3 million, but are higher than those of H1 2014 (EUR 25.1 million).
The outdoor publicity market has been in a relatively constant state since 2013, which is reflected by the small fluctuations in investments and also by the number of clients, brands and campaigns.
While the number of clients (807 in H1 2015 against 833 in H1 2014) and number of brands (972 in H1 2015 against 982 in H1 2014) stayed mostly the same, there was a slight increase in the number of advertising campaigns, from 2,491 in H1 2014 to 2,712 in 2015.
The sectors that generated the most important investment in outdoor advertising in the first half of 2015 are represented by retail (EUR 9.3 million) and communications (EUR 6.1 million), the latter being strongly influenced by Telekom Romania.
Relating to the same period of 2014, the most important development in outdoor advertising were held by the financial sector (showing a 45 percent increase), with ING Group bringing a large share of this investment. Entertainment (up 32 percent) and pharma (up 20 percent) followed in closely, while non-commercial, political, social education (down 36 percent) and transportation and travel (down 29 percent) registered the biggest drops.
Regarding distribution of volumes attracted, the top three companies accounted for 60 percent of total investments in the outdoor advertising market. Euromedia Group leads the ranking, with investments of over EUR 8.5 million (ratecard value) in advertising space, followed by Getica OOH (EUR 3.9 million) and Affichage Romania (EUR 3.6 million).
BRAT is the organization that measures media audiences in Romania for print and online media, audits circulation (print) and monitors investments in advertising (print, online, radio and outdoor). Measurements and monitoring by BRAT are independent.
Natalia Martian