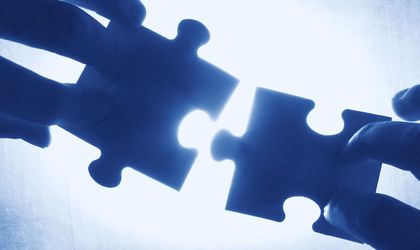 OTP Bank Romania announced that the legal merger and the integration process of Millennium Bank Romania will be concluded on November 2, 2015.
The merger's specific actions were initiated in January 2015, following the transaction worth EUR 39 million for the acquisition of 100 percent of the shares of Millennium Bank Romania.
"We are pleased to announce that the integration will be completed in less than one year, our initial deadline estimated for this transition. Due to the collective efforts of the specialists' teams from both banks, we managed to exceed our initial expectations and consolidate our position on the local market. It is a key moment in the evolution of OTP Bank Romania, which brings us closer to our middle term strategic goal, to be in the top 10 banks at national level," said Laszlo Diosi, OTP Bank Romania's CEO.
The final step of the integration process refers to the migration of Millennium Bank's clients into OTP Bank's informational systems and will be completed between October 30 and November 2, 2015. This includes the shut down of Millennium Bank's digital banking services and ATMs during that period, while the bank cards issued by Millennium Bank Romania will be out of service starting October 30, being replaced by the cards issued by OTP Bank Romania, which will be ready to be activated on November 2.
The new list of the bank's branches, available starting November 2, 2015, can be found on the company's website.
The integration process in figures: 
– about 200 employees benefited from learning programs;
– a 2 percent rise in market share for OTP Bank;
– an extended portfolio by 13 percent (more than 426,000 clients);
– 12 percent private individual portfolio increase (more than 400,000 clients);
– 31 percent increase in legal entities portfolio (more than 25,000 clients);
– 125 branches (50 percent rise) and 170 ATMs (35 percent increase);
– 32 percent more employees (1,300).
OTP Bank Romania, subsidiary of OTP Bank, is an integrated and self-financed provider of financial services. OTP Bank provides universal financial services in Hungary, Romania, Montenegro, Croatia, Bulgaria, Russia, Ukraine, Slovakia and Serbia for more than 13 million customers through an extended branch network of over 1,500 units, ATM network and electronic channels.
Staff