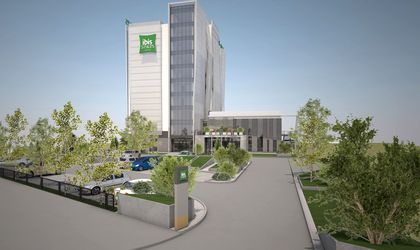 Orbis Hotel Group, the largest network of hotels in Eastern Europe, and FAB Industry announce the beginning of the construction works for the first ibis Styles hotel in the country, in Arad.
The hotel will receive its first guests in the 2nd quarter of 2017. Ibis Styles in Arad will enjoy all the benefits of being connected to the AccorHotels Global Sales and Distribution System. The new hotel will be the first under this brand in Romania aiming to be a key contributor to the quality of hospitality in Arad.
"Romania is a very promising market with great potential, one of the key markets in the region and an important element of our development strategy. With the arrival of ibis Styles, a dynamic and well-known international hotel brand to Romania we are aiming to bring innovation and a new hotel experience for the guests, "says Gilles Clavie, President and CEO of Orbis Hotel Group.
The newly built ibis Styles Arad will be classified as three stars hotel, offering 72 comfortable guest-rooms. The hotel will also feature a restaurant, a lobby bar, three meeting rooms and one multipurpose room for events and conferences.
"We are confident that by bringing a leading international hotel operator such as Orbis/AccorHotels to our city and a new, dynamic and well-known international hotel brand like ibis Styles we are strengthening Arad's position in both business as well as in leisure tourism,"said Flavius Balaj, owner of FAB Industry, the company that will own the hotel.
Arad has a vast industrial legacy, from the early years of the 20th century. The new hotel is situated right next to the most important industrial hub, Western Industrial Area.
Georgiana Bendre