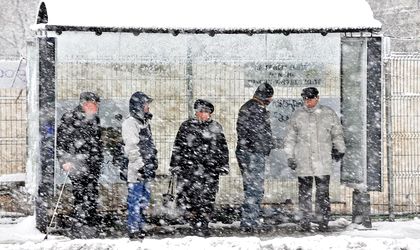 Bucharest and 10 other counties in the south will be under code orange for heavy blizzards and snowing from Friday, 18:00, until Sunday, 18:00. 16 other counties will be under code yellow.
The National Meteorological Administration in Romania issued Code Orange for abundant snowfalls in Bucharest, Oltenia (counties Mehedinti, Gorj, Dolj and Valcea). The snowfall will reach between 30 and 40 cm, and winds will blow at over 70 km/h, dissipating the snow.
During Saturday and from Saturday to Sunday the blizzard will intensify in Muntenia. Counties Giurgiu, Calarasi, Ialomita, Buzau, Braila, Ilfov and the city of Bucharest will experience winds of 80 km/h and heavy snow.
Constanţa, Tulcea, Galaţi, Vaslui, Bacău, Vrancea, Prahova, Dâmboviţa, Teleorman, Olt, Argeş, Covasna, Braşov, Sibiu, Hunedoara and Caraş-Severin will be under yellow code in the same time frame. Sleet and frost are to be expected in Dobrogea. In limited areas, the quantity of precipitation will surpass over 20 litres/sqm.
In the reast of the country, snowing will not be as substantial.