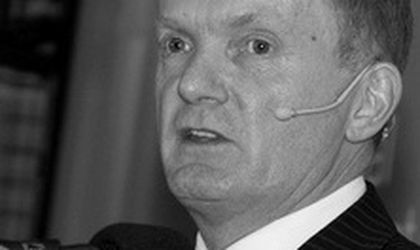 Have your people got a job or a career?
In my four plus years here in Romania I have always been impressed with the skill level of many people within the organizations that I work with and have been equally dismayed by the restriction on talent rising within departments and organizations in general.
Whenever I have a group of young professionals in a training class I ask the question, "Hands up who has a job?" to which almost everyone raises their hand. I then proceed with the more provocative question two, "So, how many of you have a career? Which is then greeted
with a smaller gathering of hesitant arms nervously reaching for the sky together with a group of slightly puzzled faces looking directly at me.
The point of this is to emphasize the huge difference that can sometimes exist between an employer and employee – a difference in expectations of commitment, dedication and performance that has puzzled business leaders and managers for many, many years.
In sales we do everything possible to swerve the client away from 'price' towards all the wonderful benefits of our product/service, yet as employers we do the exact opposite: we just focus on price (salary) and neglect the abundant 'features and benefits' of our organization.
Now, if you are a manager reading this thinking, "No, Colin, you're wrong; we take good care of our
people" I would challenge you to take a deeper look. You may be right but it's amazing how seemingly
insignificant things spoil everything else.
'Succession planning' is, very much, a taboo phrase to many managers' ears here since it requires the releasing of knowledge, information, nurturing of upcoming talent and movement towards my definition
of a good manager which is one that "surrounds him/herself with people much more talented than he/she
is!".
Reaching the personal goal of having the word 'manager' on a business card seems to have this weird impact on many people that makes them pull down the blinds and shut up shop in terms of moving any further up the career ladder and just simply 'protecting' their world and treating those rising stars as more 'threat' than 'asset'.
Organizational talent requires space, specific encouragement and movement, and if you block it then it will find another route just like a strong river does.
So, don't completely disagree with me. Take a good, hard look at your team and ask yourself the question, "do they see working here as a job or a career?" then you will have your answer!
Perception IS reality!
Just to add salt into the wounds I'm going to reveal another unknown source of damage to many businesses as a consequence of poor employee dissatisfaction and commitment.
Please, please don't be fooled into thinking that your 'minor' procedural problems, internal issues, relationship problems and challenges are not being felt by your customers because they are!
It's amazing how a simple comment, attitude or reaction by any member of staff can have a profound impact on the marketplace and your competitors' appetites as, believe me, they will smell the blood a mile away!
But it's not just employees; there are very small and insignificant things that can have a major impact on how potential or existing clients see you and many times it's right in front of people and they don't see it!
Imagine that you are in a doctor's waiting room and you look in the corner and see a plant but it's dead! Your immediate thought is, "Well, if they can't take care of that, how are they going to take care of me?"
If you are on an airplane and you put the tray table down and see a large coffee stain, you think, "bad engine maintenance? Poor hygiene? etc…"
Perception IS reality: if a customer thinks your company stinks, it stinks! If clients sense you have organizational challenges or employee issues then you do!
Ask yourself the question, "What are our coffee stains?" and get them removed before they do any more damage! By the way, a rude and arrogant security guard or receptionist is a BIG coffee stain!
Colin C. Lovering - Director, British Romanian Chamber of Commerce, Achieve International