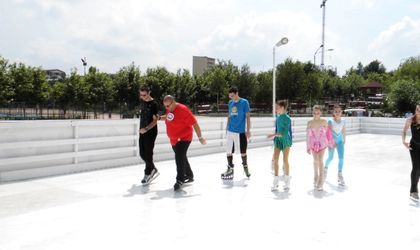 Mayor of the 4 District Cristian Popescu – Piedone has inaugurated the first synthetic and ecological ice-rink from Bucharest which is situated in Lumea Copiilor Park, Tineretului area. The surface can be used by 40-50 people simultaneously and they also hired professional ice skating coaches to help those interested to learn skating.
The ice-rink has 260 sqm and followed an investment of EUR 50.000, being ready to use in only a month and a half. The program is from 10.00 to 22.00, and an hour of skating costs RON 10, while renting a pair of roller skates costs RON 5.
In order to function all seasons, the ice-rink is made by an EZ Glide 350 resin, used by the hockey teams from the United States.
Oana Vasiliu