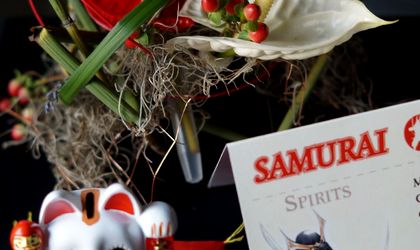 Businessman Hideaki Tanaka last week opened the traditional Samurai Japanese restaurant on Selari Street. The authentic tastes are provided by sushi specialist Chef Suenaga and Chef Tanimura, specialized in ramen, both of whom have more than ten years of culinary experience.
"Washoku", traditional Japanese cuisine, has recently earned international recognition from UNESCO, having been declared an Intangible Cultural Heritage, one of the reasons why Samurai Restaurant was opened in Old City Center, with a menu based on exclusive products brought directly from Japan.
Currently, the restaurant is the only one in the country serving the Japanese soup ramen (RON 20-25) and the Japanese pizza okonomiyaki (RON 15-20). Yakisoba noodles and teppanyaki-style cooking also feature. Ramen is a very popular noodle dish in Japan, consisting of boiled noodles served in different flavored soup with many toppings. The taste mainly depends on the soup, the making of which requires some skills. Okonomiyaki, sometimes translated into English as "as-you-like-it pancake", is a popular pan-fried food that consists of batter and cabbage. Selected toppings and ingredients are added, which can vary greatly (anything from meat and seafood to wasabi and cheese). This variability is reflected in the dish's name: "okonomi" literally means "to one's liking". Yakisoba is a kind of Japanese fried noodle, mostly stir-fried with meat and vegetables, while teppanyaki-style cooking involves a performance by dexterous chefs who cook your food in front of you, using their theatrical skills, juggling, flipping and with a dash of fire. Tuna, salmon, bream, shrimp and Yaki salmon sushi are all on the menu, at prices from RON 7 to RON 10.
Oana Vasiliu