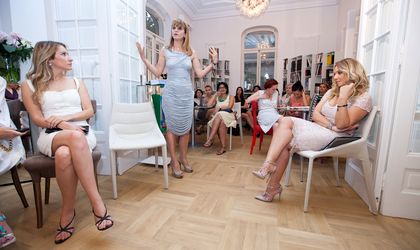 Last week, Business Review organized an informal summery gathering where attendees could get tips on healthcare and beauty from Camelia Sucu, owner of Iconic Health Concept, and Carmen Curea, MD in Dermatology and doctor in Medical Sciences at Academica Medical Center.
By Oana Vasiliu
Inside out …
Relaxation, open conversation and a cool breeze in the shade of one of Bucharest's hidden gardens, Iconic Food Wine & Design, were the secret ingredients of finding out more about beauty. Last year, Sucu started to implement a detox program, which had been seen and tested in detox centers all over the world. "As a physician, I understand the mechanisms that underpin a healthy life. As a businesswoman, I want to give people solutions for a beautiful life and inspire them to make positive choices. As a woman, I definitely choose a harmonious lifestyle with balanced nutrition, exercise and a detox program at least two or three times a year. My personal belief is that we can have a good life if we want it and we know how to take care of ourselves," said Sucu in her opening address.
You can download the report on the event here.
Basically, a detox is a dietary regimen involving a change in consumption habits in an attempt to cleanse the body through the removal of toxins and other contaminants. Proponents claim it improves health, energy, resistance to disease, mental health and digestion, as well as aiding in weight loss.
Sucu argued in favor of the importance of colonic hydrotherapy. The colon is said to be the second brain, and therefore needs appropriate care. Colon hydrotherapy, said Sucu, is a safe, gentle infusion of warm, filtered water into the rectum, using no chemicals or drugs. Advocates say it is a restorative, painless procedure which is highly effective and beneficial. Colon hydrotherapy is said to cleanse the entire colon of built-up and old waste, without causing stress to the individual. The machine for the purpose includes disposable components which are supposed to eliminate any possible contamination, and is a purpose-built closed system in which waste material is eliminated through the instrument to a drain line, avoiding any offensive odor. In Romania, the therapy can be undertaken at Del Mar Medical Spa (82-92 Soseaua Nordului), for EUR 75/session or EUR 25/infusion.
At Iconic, Sucu offers a wide variety of detox planning and products, from healthy juices to colonic hydrotherapy recommendations and even post-detox menus. Prepared in cooperation with a nutritionist, Iconic Juices are 100% natural juices made from unique recipes and at optimal dosage, she said. The secret of these detox juices is the type of squeezing, using pressure, not spin, in order to keep all their nutrients intact. Prices start from RON 21, and calories from 74 kcal/portion – for broccoli, celery stalks, apple, dates, lime – to 332 kcal/portion – for banana, almond milk, cocoa, flaxseed, cinnamon, vanilla extract and honey.
Iconic Detox is a full seven-day detox menu which consists of fresh juices, salads and soups, prepared from raw by the well-known chef David Contant. The menu should be complemented by a holistic approach that involves colonic hydrotherapy, lymphatic drainage and other procedures to attain certain objectives: the rapid loss of extra weight, extra energy and general toning. During the seven days of the program, followers will have six meals per day: four raw juices, a salad and vegetable soup.
…outside in
Facial rejuvenation and fatty tissue were the topics tackled at the event by Carmen Curea, MD in Dermatology and doctor in Medical Sciences at Academica Medical Center. Firstly, Curea outlined what facial rejuvenation with hyaluronic acid means. The procedure was conceived for individuals with fine and deep wrinkles, to rebuild volume in the cheeks that has been lost due to age, for the nasolabial fold, to redefine and augment the lips, as well as to correct skin depressions and post-acne facial scars. The injection procedure is flexible because the product can be chosen to have a viscosity suitable to the area to be treated. A product with a longer action (9-12 months) is used for the cheeks, lips and nasolabial folds, while one with lower viscosity is appropriate for fine wrinkles in order to achieve a natural integration with the skin so its presence will not be noticed upon palpation, said Curea. The treatment costs from RON 1,600.
The doctor went onto describe the treatment of wrinkles with botulinum toxin – a neuromuscular blocking agent obtained from a bacteria named Clostridium botulinum – better known as botox. Costs start from RON 900. The final topic was the treatment of elastosis and stretch marks through skin bio-revitalization with Jalupro. According to Curea, this procedure involves the injection of a solution that contains a combination of hyaluronic acid and four amino acids (glycine, proline, lysine, leucine) that play a role in rebuilding the existing collagen and stimulating the process of collagenosis and skin hydration, thus improving the tone and elasticity of the skin. This dermatological procedure costs RON 800.
Treatments for fatty tissue include body remodeling by laser-assisted lipolysis, a technique that can address problem areas that traditional liposuction solves by an invasive method. The technique consists of a very small tube, a cannula, which is inserted into the skin through a small incision. Then, a laser bundle is transmitted through an optical fiber along the cannula and liquefies the fatty tissue in the treated area, removing it through the same incision. It can be used on the neck, abdomen, thighs, buttocks, breast line and arms. Prices range from RON 2,500 to RON 12,500, for a complete abdomen liposuction.
Curea also told attendees how radio frequency technology allows non-invasive and pain-free treatment of teguments in various areas of the body. The procedure acts by gradually heating the skin areas with effects on the deep and superficial structures, and is used mainly for cellulite, fat reduction, pore reduction, post-liposuction treatments, skin rejuvenation, improvement of the texture of the skin and dark circles. Prices range from RON 200 to RON 475, depending on the part of the body being treated.