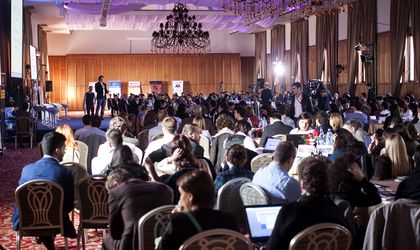 The 9th annual edition of GPeC (E-Commerce Awards Gala) kicked off on April 25th.  Until May 23, online shops can register for the GPeC E-Commerce Awards Competition, the most complex competition so far, according to the organizers.
In order to be accepted in the competition, all online shops must fully meet the pre-screening requirements concerning compliance with current European e-commerce laws and industry best practices.
A few examples are: compliance with the product return policy of 14 calendar days/10 working days, the existence of internal conciliation procedures for unsatisfied customers, accurate information regarding the product final price, information about the payment and delivery methods accepted by the online shop, the warranty and service conditions.
Once registered in GPeC Online Shops Competition 2014, online shops will be evaluated by more than 20 e-commerce specialists, according to an assessment criteria set, consisting of more than 90 aspects which are essential to any online business.
In addition to what happened during the past editions, the organizers have added category specific criteria (particular criteria which especially applies to online shops from that category of products/services).
Online shops assessment is done throughout 2 separate stages at different moments in time in order to capture their evolution in time. All online shops registered with the competition receive comprehensive evalution reports containing the grades they've obtained for each criterion and short explanations and recommendations from the e-commerce specialists which assessed their performance. Secondly, participant online shops will also receive a benchmark of their position compared to that of their competitors.
GPeC 2014 online shops competition registration fee is EUR 250. Organizers claim thar for paying this fee, the participants receive business services worth more than 3000 EUR:
access to both jury assessment reports (similar e-commerce evaluations usually cost over EUR 2000)
access to performing conversion optimization and A/B testing tools –Marketizator and Vibetrace (a benefit worth EUR 800, the cost of the tools monthly subscriptions);
access to a specialised face-to-face e-ecommerce consultancy session – GPeC Consultancy Meetings (where they receive recommendations from jury members and get the chance to ask questions);
free access to GPeC Summit (conference + 12 top-notch e-commerce workshops + E-Commerce Expo), taking place on May 26-27-28, 2014, for 2 participants/registered online shop;
Romanian online shops also receive the TRUSTED trust brand for free for a period of 12 months (they save another EUR 120 – the normal cost of the trust brand had they not been registered with GPeC 2014)
Online shops can register by filling in the registration form available on GPeC's website until May 23 2014, till 23:50 (Romania's time, CET+1, GMT+2). Online shops registered until May 9 2014 inclusive, benefit from free 3-day-passes at GPeC Summit for 2 persons/online shop (that means they save 254 EUR).
GPeC Summit reunites top international speakers
Apart from the online shops competition, "Bucharest will become present on the international e-commerce map through GPeC Summit", according to organisers.
Between May 26-28, 2014 GPeC Summit e-commerce event will reunite some of the best international speakers and offer unprecedented networking and business opportunities for its participants, as well as experience exchange and especially premium content.
Some of the first confirmed international speakers are:
Chris Goward, president & CEO WiderFunnel, author of the international bestseller "You Should Test That!"
Matthew Woodward, SEO and affiliate marketing guru
Caroline Hey, international business manager FACT-Finder
Ela Dokurno, international marketing coordinator FACT-Finder
Jacob Kildebogaard, co-founder WebJuice
"GPeC Summit is a real 3-day e-commerce show: one conference day filled with inspirational keynote speeches and dynamic debate panels, 12 practical workshops covering the hottest topics which any online business should focus on, E-Commerce Expo area where the most important e-commerce services and solutions providers meet the participant online shops and E-Commerce Party – the ideal networking place for both participants and speakers", says Andrei Radu, founder & CEO GPeC
"We've prepared an exceptional line-up of Romanian and international speakers, whose books are Amazon bestsellers, so it's pretty obvious why GPeC is a must-attend event", adds the organizer.
The topics covered by GPeC Summit target important aspects of an online business: Conversion Optimization, Web Analytics, SEO & SEM, Personalization, Usability, Social Media, Logistics & Fast Delivery, Team Management, Customer Loyalty, A/B Testing, Email Marketing, Differentiation & USP.
Tickets for GPeC Summit 2014 are now on sale. Until May 9 2014 inclusive, an early-bird offer is available and a 3-day-pass costs only EUR 127 (VAT included).
Picture from the GPeC website
Otilia Haraga