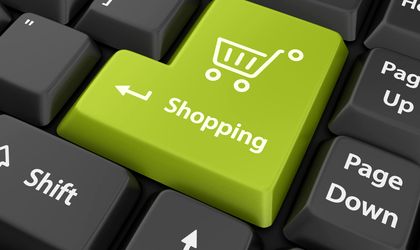 The total value of Romanian online shopping, taking into account physical products (excluding services, utilities payments, tickets, holiday bookings, etc.), went from EUR 1.1 billion in 2014 to over EUR 1.4 billion in 2015, according to a report published by GPeC (eCommerce Gala Awards).
The numbers show that "the Romanian e-commerce market continues to grow yearly" with customers who want "everything happening fast, yesterday if possible," pointed out Andrei Radu, CEO & founder GPeC. "Online shops and courier delivery services will have to be prepared to answer this need" and, moreover, online shops will have stay on top of technology improvements in order to "optimise their websites for mobile devices," added Radu.
According to the latest available data, of Romania's 19.8 million inhabitants, 11 million are Internet users, compared to December 2014 when their number was of approximately 10 million, meaning that the Internet penetration rate has increased from 49.76 percent at the end of 2014 to approximately 56 percent at the end of 2015, says GPeC.
Nevertheless, not all of Romania's Internet users are accustomed to online shopping, though, with GPeC finding that a little over half (6.7 million) say they have ever shopped online. Most of those still prefer using desktop computers when doing so, but "mobile has grown spectacularly in 2015 with over 50 percent of the biggest online store's traffic being generated by mobile devices," adds GPeC. At the moment the mobile phone penetration rate stands at over 100 percent, meaning that there are more active sim cards than there are people in the country.
An online shopper makes, on average, 8.2 purchases a year, a slight increase from 2014's 8.1 and 2013's 7.9 purchases/year rate, with the vast majority (90 percent) preferring to pay in cash upon product delivery. Even though Romanians pay more of their taxes online, only 6 to 7 percent of online shopping is paid for by card and 3 to 4 percent through methods other than cash or card such as online banking or micro-payments through SMS. 
Regardless of the method of payment, Romanians' main preferences in terms of online shopping were dominated by electro-IT products (PCs, notebooks, tablets, mobile phones, electronic devices, etc.), followed by fashion products (clothing, shoes, accessories, cosmetics, perfumes, jewellery, etc.), home decor products and products for children (from toys to things like strollers, clothing, etc.), according to the GPeC report.
As for what Romanians expect when shopping online, they look for free delivery, sales and price reductions, that the online shop covers transport costs in case of a return (even if current legislation says that it is the buyer's responsibility), and as speedy a delivery of products as possible.
Andreea Tint