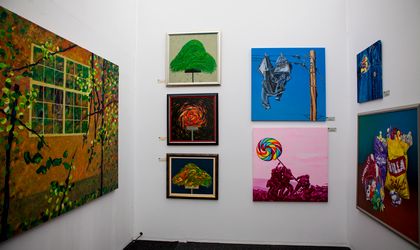 Lavacow, the Artmark art group's international subsidiary, was due to be launched at last weekend's Art Safari pavilion. Specialized in technology, it is the first online auction house dedicated to emerging European art, with a focus on post-war and contemporary artists from Eastern Europe. The costs are half as much as traditional auction houses charge, 8-12 percent compared to 18-27 percent, and may be waived entirely if the user recommends the platform and brings new users to use it.
The project involved a concept called the New Revolutionary Auction Room, which allows users to experience an art auction simulation, similar to an online game, where they can customize their presence through an avatar designed by comic artist Alexandru Ciubotariu of Pisica Patrata  street brand. Following log-in, bids can be placed online before the start of the auction in a preview or real-time, during the online live auction. At the first bid credit card details must be provided. The online platform supports sales, with Lavacow promoting works by contemporary Eastern European artists of international renown.
According to Cristina Olteanu, co-founder and CEO of Lavacow Romania, the Contemporary East, Lavacow Auction #1 will put up for sale a selection of works by up-and-coming Eastern European artists, alongside those of their more established counterparts. Victor Man, Dora Maurer and Dan Perjovschi are just a few examples of artists formed in Eastern Europe who today enjoy international acclaim. The auction will take place on May 27, at 21.00, and will consist of 49 works with an estimated value of EUR 50,000 to EUR 70,000. Starting prices range from EUR 200 to EUR 5,000.
Oana Vasiliu