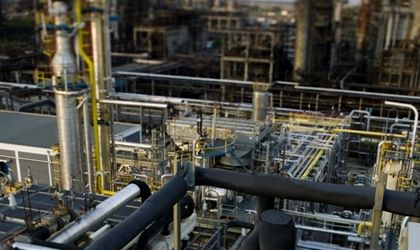 The net profit of oil & gas group OMV Petrom grew by 5 percent to RON 3.9 billion (EUR 855.5 million) last year helped by sales that gained 16 percent to RON 26.2 billion (EUR 5.8 billion).
The fourth quarter profit soared by 26 percent to RON 1 billion (EUR 224 million) and sales added 11 percent to RON 7 billion (EUR 1.5 billion).
"After a recent period of volatile crude prices and macroeconomic uncertainty, 2012 was a year of relative stability, with strong operational and financial performance for Petrom," said Mariana Gheorghe, CEO of OMV Petrom.
"This was the result of the preceding years of high capital investments in our core business and a focus on operational excellence."
The company will focus this year on stabilizing production volumes and plans to acquire new exploration licenses.
OMV Petrom's exploration expenditure reached EUR 119 million
In exploration and production, the clean EBIT rose by 6 percent to RON 5.7 billion (EUR 1.2 billion), driven by a favorable FX environment and higher oil prices. The group registered a 1 percent hike in the average realize crude price to USD 94 for one barrel. The Average Urals crude price added 1 percent to USD 110.7 per barrel.
Production costs in Romania fell by 5 percent to USD 15.3 barrels of oil equivalent (boe).
The exploration expenditure rose by 21 percent to RON 530 million (EUR 119 million) due to increased seismic campaigns and onshore wells drilling. The company drilled 34 new wells in the fourth quarter.
OMV Petrom discovered last year gas in the Black Sea, during exploration works carried out in joint venture with ExxonMobil.
Romanian oil gas and NLG production fell by 2 percent to 62.4 million boe. The group's total proved oil and gas reserves amount to 775 million boe, out of which 750 are in Romania. Proved and probable oil and gas reserves amounted to 1,091 million boe and the largest share was in Romania.
Wind farm supports OMV Petrom's profitability
In gas and power, the clean EBIT more than doubled to RON 359 million (EUR 80.5 million), helped by the power generation sector. The Brazi gas-fired power plant covered around 6 percent of Romania's electricity production since August 2012, when it started production. OMV Petrom received 182,784 green certificates for the Dorobantu wind park.
The consolidated gas sales lost 4 percent to 4.8 million cubic meters due to lower market demand.
The group said Romania has become a net importer of electricity last year, after gross production in Romanian assets fell by 5 percent, while the consumption rose by 0.2 percent.
In refining and marketing, the clean CCS EBIT fell by 79 percent to RON 31 million (EUR 7 million), due to a weak economic environment. Refining margins and volumes fell due to lower demand in the first quarter.
Sales of refined products lost 4 percent to 5 million tons. The company added 5 marketing retail stations to 798.
OMV Petrom will propose the board an investment plant of over EUR 1 billion this year.
Ovidiu Posirca