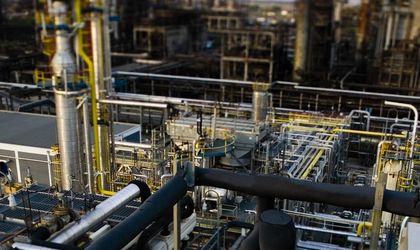 Net profit of oil and gas group OMV Petrom gained 65 percent y/y to RON 1.38 billion (EUR 317 million) in the first quarter of 2012, boosted by higher oil price and increased gas sales due to the harsh winter in the first two months of this year.
The Group's sales rose by 21 percent y/y to RON 6 billion ( EUR 1.3 billion) in Q1, while earnings before interest and taxes (EBIT) was up 51 percent to RON 1.79 billion (EUR 411 million). Net debt decreased by 44 percent to RON 1.3 billion ( EUR 298 million).
""In Q1, the higher crude price and stronger USD against RON positively impacted our results in the E&P segment whilst placing a further burden on R&M margins and volumes," said Mariana Gheorghe, CEO of OMV Petrom.
In Exploration and Production (E&P), Petrom's clean EBIT increased by 35 percent to RON 1.7 billion (EUR 390 million), driven by a higher crude price, lower expenditure in exploitation and production, as well as a favorable foreign exchange rate.
The average Urals crude price rose by 14 percent y/y to USD 117.49 per barrel in Q1.
OMV Petrom drilled 31 new wells in Romania in Q1, and the production costs for one barrel of oil decreased by 8 percent to USD 14.92. The company doubled exploration expenditure to RON 267 million (EUR 61 million) due to off-shore drilling in the Black Sea.
Oil production in Romania fell 1.6 percent to 7.22 million barrels due to harsh winter conditions, while gas production remained stable at 8.38 million barrels of oil equivalent (boe). Overall, Petrom's total oil, gas and NGL production slightly decreased to 15.6 million boe in Romania.
In Gas and Power (G&P), clean EBIT soared by 309 percent to RON 136 million ( EUR 31 million), and gas sales gained 5 percent to 1.6 billion (EUR 367 million), due to higher gas sales, increased margins on gas extracted from storage and better domestic gas sales contracts.
The average gas price for domestic producers in Romania lost 7 percent to USD 169/1,000 cbm (cubic meters), while the import gas price rose by 28 percent to USD 505/1,000 cbm.
Petrom is active in the wind sector, operating the Dorobantu wind park (45 MW) where the net electrical output was 0.03 TWh, being granted 61,763 green certificates, worth EUR 3.4 million, as one certificate is currently trading at the maximum price of EUR 55. The company will also start operations on the Brazi gas-fired power plant (860MW) later this year.
In Refining and Marketing (R&M), clean CCS EBIT widened by 17 percent to a negative RON 61 million (EUR 14 million), due to lower demand and increasing oil prices. The refining margin fell by 306 percent to USD 3.58 per barrel. The utilization rate of the Petrobrazi refinery fell to 79 percent, while total refining output lost 10 percent to 0.82 million tons. Refined product sales, meanwhile, fell by 2 percent to 1.14 million tons due to bad weather. The group operates 792 gas stations and employs 22,366 people.
OMV Petrom sees Brent oil price above USD 100 per barrel
The company expects the Brent oil price benchmark to stay above USD 100 per barrel, while the gas and electricity markets in Romania will start the gradual liberalization once the European Third Energy Package is implemented in the domestic legislation.
Petrom will continue offshore explorations in the Black Sea, and will make new 3D seismic acquisitions in the Neptun offshore block. Also,  it will continue to evaluate the Totea gas field, which may be the most important gas discovery in Romania in the last 6 years.
The company expects commercial operations in Brazi power plant to start in H2 2012, and will upgrade the Petrobrazi refinery to increase capacity to an yearly 4.2 million tons.
OMV Petrom will distribute RON 1.76 billion (EUR 404 million) in dividends from the net profit of 2011, which stood at RON 3.75 billion (EUR 887). The company had market capitalization of RON 22.1 billion (EUR 5 billion) on May 9. Petrom shares rose by 0.33 percent to RON 0.39 on Thursday trading.
Petrom is controlled by Austrian OMV Group with a 51 percent stake, while Romania has 20 percent through the Ministry of Economy. The rest is split between the Property Fund with 20 percent of the shares and other investors.
Ovidiu Posirca