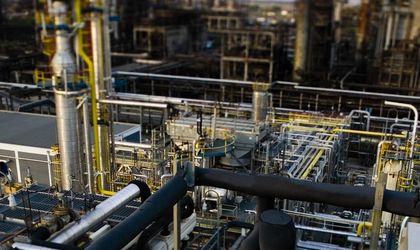 The net profit of OMV Petrom, the largest oil and gas company, rose 18 percent to RON 2.4 billion (EUR 523 million) in the first semester, helped by higher production in mature fields, while sales lost 5 percent to RON 11.5 billion (EUR 2.6 billion).
Marian Gheorghe, CEO of OMV Petrom, said the profits increased on the back of investments, strict cost management and operational improvements.
"We have further pursued our significant investment program, which has enabled us to successfully stabilize production, as the slightly higher hydrocarbon volumes in Romania fully compensated the effect of temporary technical problems in Kazakhstan. Offshore, we completed the largest 3D seismic program in the Black Sea and, in joint venture with ExxonMobil, we aim to resume drilling in the Neptun block towards the end of 2013 or early 2014. G&P performance reflected the challenging market environment with depressed demand for both gas and electricity as well as significantly lower electricity prices. In R&M, the retail business was stable while refining margins decreased due to lower product cracks," said Gheorghe.
The company's domestic oil and gas production slightly grew to 33.2 million barrels of oil equivalent (boe), due to higher offshore gas production.
Petrom's gas sales lost 2 percent to 2.6 billion cubic meters as the estimated Romanian gas consumption fell by 8 percent. Its electrical output increased to 1.05TWh, covering 4 percent of Romania's first half electricity consumption. Overall, Romania registered a 6 percent reduction in electricity output and consumption fell by 7 percent. The company operates in Romania the 860MW  Brazi power plant and the 45MW Dorobantu wind farm.
The company was hit by a 7 percent reduction in marketing sales volumes because of lower commercial sales that lost 18 percent. Petrom said that retail sales remained flat.
The company said it aims to invest over EUR 1.2 billion this year, mainly in exploration activities.
Shares in OMV Petrom gained 0.71 percent to RON 0.4420 on Tuesday afternoon trading on the Bucharest Stock Exchange.
Ovidiu Posirca