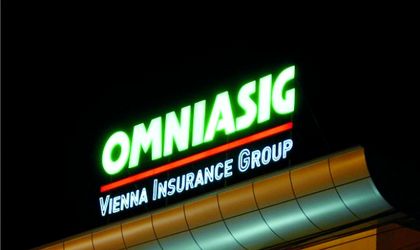 Omniasig Vienna Insurance Group (VIG) reported gross written premiums (GWP) worth RON 694.31 million (EUR 153.88 million) during the first nine months of 2015, a 19.47 percent hike year on year.
The insurer posted profits of RON 9.57 million (EUR 2.12 million) during the same period. Omniasig VIG turned to profit in 2014, reporting a net worth of RON 15.68 million (EUR 3.48 million), after the previous year it had a loss of RON 217 million (EUR 48.1 million).
Property insurance (fire and natural disasters) recorded in the first nine months of the year GWP worth RON 134.91 million, an amount almost equal to that of the same period last year. In the same period, the health insurance line registered a growth of 30.07 percent in GWP, reaching a total of RON 4.04 million.
For accidents and disease the company underwrote GWP worth RON 6.36 million, for aircraft insurance – RON 6.13 million, for general liability insurance – RON 23.06 million and for tourist assistance insurance (travel insurance) – RON 4.86 million.
The cumulative automotive insurance line posted revenues of RON 481.64 million, up by 26.43 percent, with the largest share being held by RCA (RON 254.28 million), followed by CASCO (RON 227.35 million). The compensation paid on these lines in aggregate were worth RON 316.30 million.
The insurer saw a descending trajectory for complaints filed during the first three quarters (580), down 42 percent y-o-y, of which grounded complaints saw a 55.8 percent decrease.
With a social capital of RON 439.65 million, an available solvency margin of RON 227 million, a solvency ratio of 164 percent and liquidity ratio of 1.80, the company is significantly above the legal threshold.
Omniasig VIG is a two-tier system managed company, whose leadership is provided by the board, under the supervision and coordination of the supervisory board. The company has a portfolio of over 100 products and an extended territorial network, including 32 branches, organized in 6 regions and 85 agencies. Omniasig has a strong sales network, represented by 1,200 agents and 400 brokers.
Vienna Insurance Group (VIG) is active in the insurance market in Austria and in Central and Eastern Europe. The group consists of approximately 50 companies from 25 countries. VIG has 190 years of experience in the insurance field. With around 23,000 employees, the insurer covers an area with 180 million inhabitants.
Natalia Martian