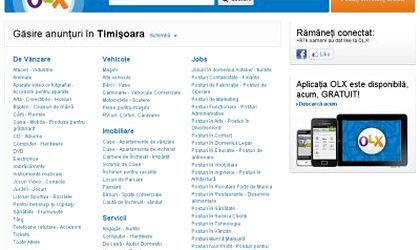 One year since the re-branding of Mercador into Olx.ro, the classifieds website has attracted 80 percent more visits than its predecessor, nearly doubling the number of page views to a total of 890 million. 
In 2015, the mobile version of the Olx.ro website has attracted over 12 million visits, up 150 percent compared to the similar period in 2014.
Over the past year, the number of classifieds published on Olx.ro has doubled, exceeding 4.4 million.
More than 40,000 new offers are posted daily on the website, up by 30 percent compared to the time when it was called Mercador.ro.
The categories where most announcements are posted are Auto, Moto and Boats (1.2 million posts), Electronics and Home Appliances (760,000) and Fashion and Beauty (670,000). These three categories have seen growth of 59 percent, 45 percent and 29 percent, respectively.
Every month, 8 million Romanians go on the Olx.ro website.
Otilia Haraga