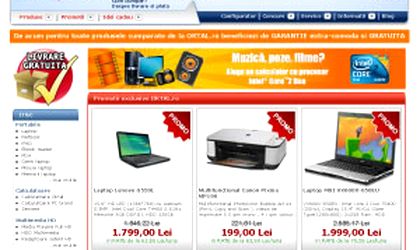 Oktal.ro posted a turnover of EUR 3 million after the first nine months of the year, up 30 percent compared to the same period last year.
The IT&C online retailer is looking to achieve EUR 3 million sales through the Black Friday sales event alone.
The retailer said on Friday that its most successful products are smartphones (up 70 percent year on year), tablets (up 60 percent) and television sets (up 30 percent).
"Black Friday and the winter holidays last year carried on in the new year so in January we had double the sales we did in the same month in 2013. Another unexpected twist, which we observed in the first nine months of the year, is linked to weather. Consumption behavior changed over the summer, since we've had a relatively cool summer, and Romanians held back from buying air conditioning units and instead bought telephones and gadgets", according to Dan Dumitrescu, general manager Oktal.ro.
In spite of that, the company registered only a 10 percent increase in sales over the summer, similar to 2014. Oktal.ro is looking to sell products worth EUR 3 million over the Black Friday campaign. By comparison, last year Oktal.ro posted sales of EUR 1.5 million for Black Friday.
"This sales season is very important for us and we've begun preparations for Black Friday and the holidays in spring. That's when we started negotiations with our suppliers to make sure that we can obtain the best offers for our clients but also to ensure that we will have the products on time and we won't be late with deliveries", Dan Dumitrescu concluded.