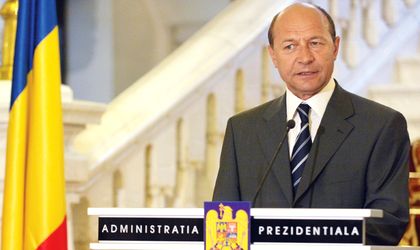 Preliminary results presented by the Central Electoral Bureau at the end of the voting process indicate that 45.92 percent of the Romanians on the electoral lists cast their votes during the referendum for the impeachment of president Traian Basescu.The error margin is 3 percent.
However, the threshold that needs to be attained to impeach the president is of more than 50 percent of the people on the electoral lists. If preliminary results are confirmed, the referendum will be invalid and Basescu will remain in office.
On the other hand, representatives of the Social- Liberal Union claim that the final results will show a vote attendance of 52 percent, based on the organization's own count.
According to BEC, the presence at the vote in the urban environment was 41.76 percent while in rural areas was 51.61 percent.
Counties such as Olt (74.71 percent), Mehedinţi ( 70.46 percent), Teleorman (70.16 percent) , , Giurgiu ( 60.67 percent), Valcea (60.44 percent) had a high rate of attendance.
Harghita ( 11.56 percent), Covasna (20.60 percebt), Satu Mare (28.23 percent) had a low vote attendance rate.
In Bucharest, the presence at the vote was 40.04 percent.
"The Flame of democracy is still burning. The Romanians have rejected the state coup of the 256 parliamentarians led by Victor Ponta and Crin Antonescu. I want to thank those who surpassed their discontent and have understood that today the referendum was not about Basescu butfor Europe and against the state coup. (…) I would like for everyone to understand a fundamental thing: today was a day of options, when Romanians could have said 'Yes, we want to go east and follow Ponta, Antonescu and Voiculescu' or say 'No, we want to be in the EU and NATO,' said Basescu.
He also added: "I want to assure Romanians that once I am back in Cotroceni, I will try to generate a feeling of tranquility within society.  (…) It is clear that many Romanians are discontent over what happened over the past years. The divide in the society must be annihilated because Romania needs all its energy to integrate into the civilized world."
On the other hand,prime-minister Victor Ponta said that: "It is a great victory for Romanians to have around 9 million people cast their vote. This is a victory for them and I think any politician who can ignore millions of Romanians is out of touch with reality." Ponta also added that "the government will respect the laws and decisions of the Constitutional Court and act as a factor of stability and progress, irrespective of whether the referendum is declared valid or not."
About Basescu, Ponta also said that "a president elected with 5 million votes who has 8 million Romanians who do not want him anymore should reflect more seriously over this vote."
Otilia Haraga