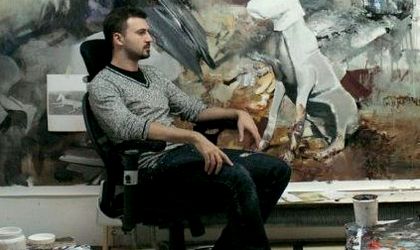 At the beginning of October, Adrian Ghenie settled a new record: he sold a painting for USD 9 million, "with a waiting list of private buyers "spread out between four continents," according to Marc Glimcher, the president of Pace gallery, which represents Mr. Ghenie in New York and is giving him a solo show opening in January," notes New York Times, the publication that recently dedicated an analysis for the success of the Romanian artist.
Why all the fuss?, asks the magazine. "He is an extremely talented painter — I don't think anyone can deny that," said Ali Subotnick, a curator at the Hammer Museum in Los Angeles, which in 2008 acquired two of Mr. Ghenie's "Pie Fight" studies. "But it's a little absurd."
According to them, several factors have contributed to what art experts describe as a perfect storm for the Ghenie market at auction: a demand for painting — as evidenced by the strong sales for artists like Francis Bacon, Gerhard Richter and Jenny Saville; Mr. Ghenie's limited output (10 to 15 paintings a year); the scarcity of masterpieces coming up for sale; an affordable price point relative to the top of the market; and an eager pool of wealthy Asian buyers.
The entire article can be read here.
Oana Vasiliu