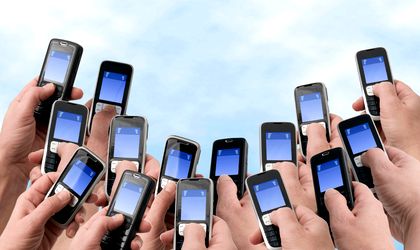 The number of people who access the internet from their mobile phone will surpass the number who go online from a PC in Romania in 2013, according to statistics from Breeze Mobile.
Currently, 7 million unique users access the internet from their mobile phone in Romania, with the number of mobile internet users having hiked by 60 percent over the past year. The average monthly traffic per user in mobile networks is 40MB.
The number of Romanians who access their Facebook account from a mobile phone has jumped by 39 percent over the past six months. In total, 2.5 million Facebook users access this social media platform from their handset in Romania.
Meanwhile, the local penetration of mobile telephony has reached 120 percent. There are 22.7 million active SIM cards for a population of 19 million, while the number of mobile phone contracts has reached 9.3 million.
There were 9.5 million connections to mobile internet while connections to fixed internet have reached 3.4 million.
In 2012, a total of 3 million mobile phones were sold, of which about 1 million were smartphones. In 2013, there are in total 5 million smartphones on the Romanian market, which
takes smartphone penetration to 25 percent.
In the first quarter of 2013, the most popular operating systems in Romania were Android, iOS and Symbian & Series 40.
International trends look even more encouraging for the mobile industry. At this point, there are 1.3 billion smartphones in use, while 700 million smartphones were sold in 2012 alone. Overall, 1.8 billion mobile phones were sold worldwide.
The number of active SIM cards has risen from 6.7 billion in December 2012 to 7.1 billion at present.
Currently, 2.2 billion people go online from their mobile phone while 1.6 billion access the internet from the PC.
The mobile applications market has also seen explosive growth. While the cumulated downloads of mobile apps by December 2012 amounted to 75 billion, in 2013 alone about 80 billion applications have been downloaded so far worldwide.
Otilia Haraga