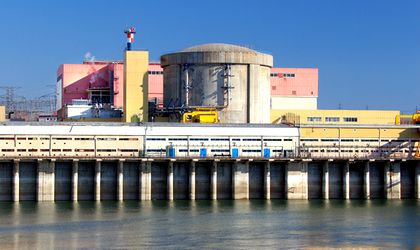 Nuclearelectrica, the company that manages the Cernavoda nuclear plant, is planning to invest EUR 1.7 percent between 2017-2019, a report of the Bucharest Stock Exchange (BVB) shows. Expanding the lifespan of reactor 1 could cost EUR 1.5 billion.
Namely, the company planned investments of RON 440.7 million this year and of RON 554.3 percent for next year. For 2019, Nuclearelectrica estimates it will make an investment of RON 701.4 million. The most important investment projects, from the perspective of the effort to invest are the detritiation installation, with a total value of EURR 170 million, provided that it will receive a final approval. Modernizing Unit I will cost between EUR 1.2- 1.5 billion, the Nuclearelectrica shows.
On a short and medium term, SNN must fund important investment projects, behind investments to maintain the existing operation capacity, the document said.
On 31 December 2016, Nuclearelectrica had "other reserves representing own funding sources" totaling RON 128.9. Moreover, at the end of last year, the company had RON 3.66 billion in its accounts. Additionally, at the end if last year, it had RON 263.7 million in cash, and other sources.
Last year the company had a RON 112.4 million in profit, given that the electricity production dropped slightly compared to 2015, to 10,388 GWh.
The two Cernavoda units ensure approximately 20 percent of the total production of electricity. The main shareholder of the company is the Romanian state, via the Ministry of Energy, which has a participation of 82.49 percent.
Nuclearelectrica is listed on the BVB and has a market value of RON 2.1 billion (EUR 473 million).