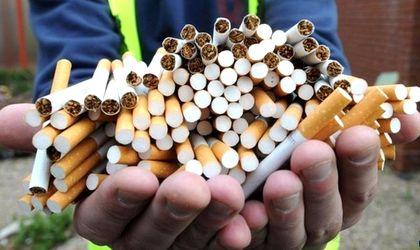 The cigarette black market has been on the rise since November 2015, according to a Novel Research study, reaching 17.8 percent in January this year.
Conflict-riddled Ukraine is the largest source for illegal cigarettes, with 22.5 percent of the products coming from there, while Moldova follows with 15.8 percent. There was a surge in bootlegging from both countries, Ukraine going up by 5.5 percent and Moldova by 1.9 percent.
According to Marian Marcu, Novel Research's director, the north-east region in our country is the most affected, with a share of 36.8 percent of the market being held by illegal trading, though the tendency is decreasing. The north-west and western regions also present a large share of illegal cigarette trade, of 28.3 percent and 26.7 percent, respectively.
"In many villages and communes in Suceava and Botosani the share of illegal products reach up to 90 percent. A pack of cigarettes which costs RON 2.8 in Ukraine is sold on this side of the border with RON 8. We are deeply concerned about the lack of coherent policies for tobacco, both in terms of combating illicit trafficking, legal and industry regulation, which is the second largest contributor to the state budget, with nearly EUR 3 billion paid in 2015," stated Gilda Lazar, director corporate affairs and communications for JTI Romania, Moldova and Bulgaria.
Claudiu Ardeleanu, general director of the General Customs Department, stated that during the first two months of the year there have been large captures of illegal cigarette transports at the borders with Ukraine and Moldova. Over 700,000 packs of cigarettes were seized, of which 230,000 cigarettes at the Siret customs office, 150,000 in Halmeu and 10,000 in Albita.
This phenomenon adds to the state's lack of action concerning the Tobacco Directive launched by the EU, which should come to force in May, industry representatives say. Last month British American Tobacco, Japan Tobacco International and Philip Morris Romania have launched a warning that the lack of clear regulations could lead to a hole of EUR 250 million in taxes monthly.
According to the press release by JTI, the tobacco industry brought EUR 3 billion to the state budget last year, which is some 2 percent of GDP, the equivalent of 12.5 percent of total budget income.
Natalia Martian