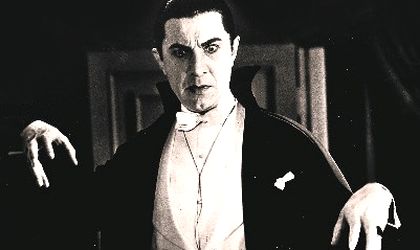 Academy Award nominated American composer Philip Glass and Grammy Award-winning Kronos Quartet are coming to Bran and Bucharest this July for a novel screening of the original 1931 Dracula movie.
Two performances are scheduledfor the unique show, Dracula – the music and film, which consists of the remastered American cinematic classic Dracula (1931) starring Bela Lugosi, accompanied by its first original score, composed by Philip Glass in 1998, and performed live by the composer himself and the Kronos Quartet.
The exclusive preview will happen on July 2nd at the Bran Castle's Royal Park and the premiere will take place on July 4th at the Summer Theatre in Herastrau Park, Bucharest.
"We are looking forward to performing in Romania, the very place where the Dracula Myth was born," said composer Philip Glass in a message to the Romanian fans, posted on his Facebook page.
Dracula – the music and filmhas thrilled audiences worldwide since its debut, with sold out premieres in Los Angeles, New York, London and Berlin.  The show was part of the festivities occasioned by Universal Pictures' 100-years anniversary.
Academy Award nominated American composer Philip Glassis renowned for his works such as Einstein on the Beach or The Voyage, and for the Academy Award nominated scores composed for Martin Scorsese's Kundun (1997), The Hours (2002) orRichard Eyre'sNotes on a Scandal (2006).
The Kronos Quartet, perhaps most known in Romania for their interpretation of Clint Mansell'sRequiem for a dream(2000) score, was also featured in a number of other prominent films, including two recent Academy Award–nominated documentaries: the AIDS-themed How to Survive a Plague (2012) and Dirty Wars (2013), an expose of covert warfare for which Kronos' David Harrington served as Music Supervisor. Other works by Mansell in which Kronos was involved include Noah (2014) and The Fountain (2006). The quartet has worked withPhilip Glass before on the score for Mishima. Additional films featuring Kronos' music include The Great Beauty (2013), Heat (1995), and True Stories (1986).
Tickets to the Show are available on Eventim website, as well as through the Eventim'spartners network: Germanos, Orange, Vodafone, Humanitas and Carturesti Bookstores.
Tickets for the exclusive preview are between RON 390 (cat. 2) and 470 (cat. 1), depending on category, while tickets for the premiere cost RON 170 (cat. 2) and 240 (cat.1). Both events offer a VIP package, including the show and a reception, for RON 790 (Bran event) and RON 350 (Bucharest).
The dress code at the show requires a creative Black & White with a Splash of Red attire. Detailed show information and the attendance guideline are available on www.liveland.ro.
Natalia Martian