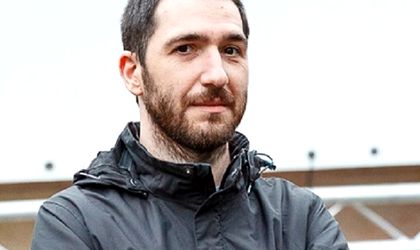 Cinema, mon amour is the documentary through which Tudor Giurgiu, along with director Alexandru Belc, editor Ioachim Stroe and researcher Ilinca Micu, presents a tale of loneliness, friendship, hope and unfulfilled dreams, the story behind every movie theater. BR talked with Alexandru Belc to find out the premise of the documentary Cinema, mon amour.
Read more about the campaign here.
How did this project start?
The initiative came from Tudor Giurgiu, who is very concerned about the dreadful conditions and the decline of Romanian cinemas, so he asked me to do a documentary about it. I started to search on the internet and in local newspapers. Then, we made a website, www.salvatimareleecran.ro, which aimed to be a database, a complete mapping of the cinemas. While working on this project, I realized that nobody really knew the actual situation of all the Romanian cinemas, which was a real surprise, so we did the job ourselves: locating cinemas, collecting data, taking photos and, of course, recording all the stories of the cinemas that still have a bit of life thanks to the people who work there. This is the reason that my documentary is about the people inside the cinema, who disappear along with the actual building, not about the cinema itself.
What was the most impressive story that you heard?
Every cinema has a story which is a tale of loneliness, friendship, expectation or unfulfilled dreams, as well as a story of the people who gave years of their lives to that place, spent most of their lives inside its walls, in the projection room or ticket booth. I found an impressive story in Piatra Neamt, where the movie theater manager refuses to join his family who immigrated to Italy and have been waiting for him for years, as without him the theater would not survive. The story is incredible because the theater has become his new home; his two employees are his new family.
When is the premiere of Cinema, mon amour?
Given the amount of material that we have gathered for this movie, I could easily finish it tomorrow, but we want to add more value to it so the official launch will take place at TIFF 2015, everyone expects.
Oana Vasiliu