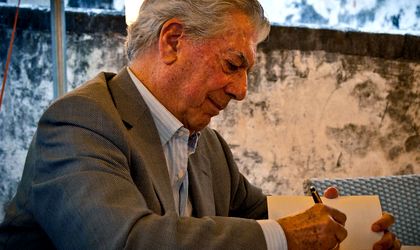 Peruvian author Mario Vargas Llosa, a Nobel Literature prize winner in 2010, was welcomed at the international airport of Cluj-Napoca on Sunday, May 19, by officials of Babes-Bolyai University. The author has come to attend the opening night of his 2008 play, "The Thousand and One Nights" at the National Theater late in the day. "We have to enrich our life somehow, and this is where the fiction appears, and the role of literature is to give us the possibility to live more lives", said the writer after the performance.
Today, the Cluj-Napoca-based University has awarded Llosa a honorary doctor's title at a ceremony. The title will be delivered by the dean of the Letters Faculty.
Llosa's acceptance speech is eagerly awaited by the Romanian academics. The author is known as one from top 20 literature influencers at the moment. Attending the ceremony hosted by Babes-Bolyai University will be Peru's ambassador in Bucharest Jose Antonio Arrospide del Busto and Bucharest-based Cervantes Institute director Juan Carlos Vidal.
On Tuesday, the Letters Faculty will host a debate between Llosa and Romanian philosopher and publisher Gabriel Liiceanu entitled "Could We Live Without Escaping into Fiction?"
Mario Vargas Llosa visited Romania for the second time in 2005, after his first visit in 1995. He then took part in launching two of his novels and opened an exhibition of photographs taken by his daughter Morgana. The Romanian Authors Union awarded him Ovidius 2005 Prize for "the value of his literary work and his contribution to asserting the freedom of speech and ethnic tolerance".
Oana Vasiliu