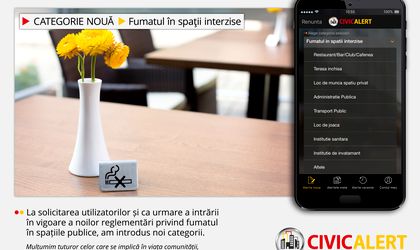 The Civic Alert Association, developer of a mobile app designed to help people report issues across the city, has added a feature allowing to report smoking in forbidden places.
A recent law banning smoking in public enclosed spaces has come into force starting March 16. The law had been contested by a group of Senators as unconstitutional, but the Constitutional Court of Romania ruled unanimously to pass it.
An enclosed public space is defined as a public space that has a "roof or ceiling and which is bordered by at least two walls, whether of temporary or permanent nature". This includes enclosed working spaces, medical, education and child assistance units, public transport means (such as taxis or bus stops), or even the hallway, lift or staircase of block of flats. Children playgrounds, whether closed or open, are forbidden also.
The app, launched four month before, has a special category dedicated to "Smoking in enclosed spaces," and invites people who detect a breaking of the recent law to take a picture of the situation and upload it into the category. The complaint reaches the Police, which investigates the evidence sent and decides on a sanction and its level.
Data reported can be testimonies, photos, incriminating evidence on the spot (ashtrays, visible cigarette smoke), whether the owner had taken steps to stop the crime or not.
Smoking in prohibited areas can be punished with a fine from RON 100 to 500 for the smoker and from RON 5,000 to 15,000 for legal entities, which can also be closed after repeated infringements.
The app Civic Alert has almost 38,000 users and some 12,000 alerts have been registered since its launch. The most frequent reports are connected to abusive parking, potholes, abandoned cars or waste, damaged sidewalks or roadblocks. Of those complaints 424 have been resolved, while most of them are in various stages of development with the authorities.
Most app users have Android operating systems (65.5 percent), followed by iOS (33.7 percent).
Natalia Martian