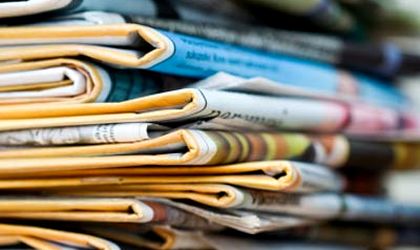 During the second quarter of 2015 printed and distributed editions of newspapers have dropped 3 percent quarter on quarter, while sold editions saw a larger 14 percent decrease, according to data from the Romanian Transmedia Audit Bureau (BRAT).
Printed editions dropped from 6.97 million in Q1 2015 to 6.76 million in Q2. Of these 6.02 million were distributed (6.24 million in Q1 2015), while sold copies reached 1.1 million (from 1.27 million in Q1 2015).
Year on year, printed editions increased by 1 percent (from 6.7 million in Q2 2014) and distributed copies rose 2.35 percent (from 5.88 million in Q2 2014). Sales kept teir descendent trend taking a rather large fall of some 15 percent (from 1.28 million copies sold in Q2 2014).
Of the main national daily newspapers Lumina had a positive result when comparing Q2 with Q1 of 2015, registering a 2 percent increase both in printed and distributed editions. Jurnalul National, though presenting a 27 percent increase in printed copies, recorded an 11 percent drop in distribution. The same situation was true for Libertatea, which saw a 1 percent rise in printed editions, while distributed copies dropped by 5 percent.
The other printed newspapers of national coverage had negative levels both in terms of print and distribution, with Gazeta Sporturilor reporting the largest drop (-10 and -8 percent, respectively) and Ziarul Financiar closing the range with a 1 percent drop on print and stagnation in distribution.
Local daily newspapers took an even harder blow, with drops ranging between 11 and 3 percent. Among them, Ring was the only publication that managed to keep away from the negative, keeping at the same levels in Q2 as the ones in Q1 2015.
BRAT is the organization that measures media audiences in Romania for print and online media, audits circulation (print) and monitors investments in advertising (print, online, radio and outdoor). Measurements and monitoring by BRAT are independent.
Natalia Martian