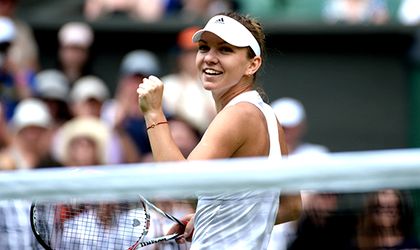 World No. 2 Simona Halep booked her place in the quarter-finals of the Sydney International on Tuesday ahead of next week's Australian Open as she beat French Caroline Garcia in three sets.
The Romanian withdrew from the Brisbane International last week because of an Achilles injury, which also affected her 2015 campaign, and she called the trainer during her second-round match, notes The National. The same source says that "the 24-year-old is one of four leading women players heading to the Australian Open, which begins in Melbourne on Monday, under an injury cloud. World No 1 Serena Williams (knee), fifth-ranked Maria Sharapova (arm) and number three Garbine Muguruza (foot) all withdrew from matches in the last week."
"It was a tough match. I actually expected a tough match because I know her pretty well. She's strong and she hits the ball powerfully. She has a good serve," Simona Halep explained, cited by Wtatennis.com.
Simona Halep won the game in three sets 6-4, 2-6, 6-1, reaching the tournament quarterfinals where she will play against Czech Republic's Karolina Pliskova. Halep has beaten Pliskova in both of their previous meetings. Apia International Sydney is a Premier tournament with total money prizes of USD 687,900.
All four quarterfinals of the tournament will take place on Wednesday, before 7 am, Romania's time. The tournament can be seen on Digisport 2.
Oana Vasiliu