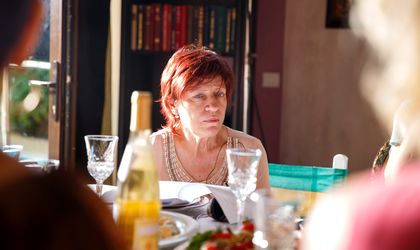 Luminita Gheorghiu, the international awarded actress with Berlin Golden Bear, Los Angeles's Critics Award, Cannes Palm dOr and many other awards, will be on the national silver screens with the comedy Cuscrii (The in-laws), a film directed by Radu Potcoava.
Read also: Films of the fall: local premieres line up for big screen
In this movie, Luminita Gheorghiu plays the role of a too kind mother and wife, who has a big house in one of the Bucharest's most expensive area, with three daughters and two sans-in-laws, trying to coordinate everybody's lives. Ionut and Mariana are going to be married anytime soon, so their families are meeting to organize the happy event. The in-laws seem to like each other, having in common several things, such as soap-operas passion, the luxury, the Romanian music of 80s and the brandy (Romanian tuica). After drinking to much tuica, the misunderstandings are disturbing the joy and happiness.
The movie can be seen in the local cinemas starting October 24 and starring Luminița Gheorghiu, Mircea Diaconu, Marian Râlea, Gabriela Popescu, Ioana Blaj and Paul Ipate.
Oana Vasiliu