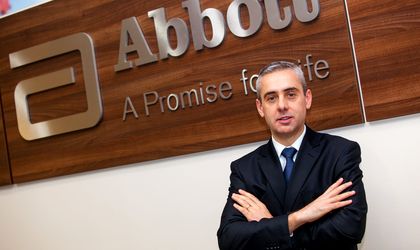 Adrian Grecu, general manager of drug maker Abbott Products Romania, says the local drugs market faces a flat year after reaching EUR 2.6 billion in 2013, unless new molecules make it onto the reimbursement lists. With RON 163 million (EUR 36.8 million) in local sales last year, the company is aiming to continue growing this year, despite the unpredictable claw back mechanism and the inflexible drugs budget of the healthcare insurance body, the CNAS.
[restrict]
What does the local pharmaceuticals market lack?
Financing and predictability, and maybe longer-term planning for the health sector, which I do not think we have at the moment.
How does Romania stand out for Abbott in the region?
The lack of predictability hurts us the most. This is what I have to explain to my managers, and sometimes it is very difficult because even for me it is unclear why things went one way or another. The light at the end of the tunnel is that Romania still has the potential – this is still true – but it depends how long investors are willing to wait.
Historically, the pharmaceutical market grew handsomely until the crisis. It was from another starting point – some years had to be recovered in terms of treatment – but since the crisis things have become uncertain and unclear. We are in a "sit and wait" stage in terms of investments or the next steps. We do not plan to leave this country.
How do you expect the pharmaceuticals market to do this year, because Cegedim forecasts a flat year?
This is also my prediction. I think Cegedim's estimate is pretty close to the reality. From my point of view, Cegedim was not that explicit in that report and I think that even the growth mentioned there (e.n a 2.7 percent increase in RON) will probably be determined by new molecules, provided they are introduced onto the reimbursement list. Otherwise, if we exclude those molecules, the market might actually register a downturn.
Could you describe Abbott's operations in Romania?
Firstly, Abbott is a diversified company in the healthcare sector. We operate in many fields and I am general manager of the established pharmaceuticals division. At the same time, we have other divisions of diagnostics, glucose tests for diabetes patients, and molecular chemistry –laboratory tests. Each division has a commercial head, who works independently, but are all part of Abbott Products, the company's name in Romania.
How many people do you employ in the pharmaceuticals division?
We have around 150 people. Out of this total, around 100 employees promote and present our portfolio of products to physicians. Given the evolution of the market, we will probably not make any changes to the structure. At least, at this moment I do not expect any change to the structure.
How do you think sales will do this year?
Our sales last year amounted to RON 163 million, according to Cegedim. This year, we expect a similar level. We expect to grow in line with the market. We want to outpace the market but at minimum move in line with the market.
Does Abbott aim to introduce new drugs onto the subsidized list?
No, Abbott Products Romania does not have new molecules on the reimbursement list because our business model is a little different from the one we had up to two-three years ago, when the AbbVie spin-off took place.
Will Abbott react in any way to GlaxoSmithKline's decision to drastically change its marketing strategy? The UK producer said it would scrap sponsorship for physicians and individual sales targets, and that it would stop financing doctors' participation in congresses. Do you think this is a trend that will gain ground in Romania?
I would avoid saying whether this is a trend or not. From my vantage point, this industry, like any other, is in constant change. Things are evolving, in one direction or another; each company, depending on how it expects the future to be, adapts its strategy according to expectations.
Concerning this specific company, there were other motivations at global level for this. They had already started something in Romania, so it is not something new, and of course we look at what other competitors do and we assess what is right for our strategy and what is not, and effectively understand what is behind each decision. I cannot say at the moment that we will borrow any of these ideas, but nor can I say that we will not.
What are your sales tactics in Romania?
We do not sell products. In Romania we work as a marketing entity. We promote our products, their therapeutic benefits, all indications for which the drug is prescribed, to physicians prescribing them.
Are you discussing any change in the claw back tax with the authorities?
We want a predictable tax. More important than anything, we need to be able to forecast certain costs in a judicious manner. That p (e.n the percentage used in the calculation of the amount one producer has to pay in claw back), which is announced quarterly, referring to the fourth quarter in 2013, was not in line with what we in the industry had expected. If we look at Cegedim data, the market did not grow in the fourth quarter (e.n it fell 2.4 percent to RON 3 billion), but the p has significantly grown. If we look at percentages in the first three quarters, which were fairly constant at around 15 percent, in the fourth quarter it jumped to 20.3 percent. This was a surprise for me. After you have three consecutive quarters that are somewhat predictable, the 20.3 percent took me by surprise, and also probably other players in the market.
So I want it to be predictable. Secondly, the tax was always supposed to be temporary. I would like to hear that the authorities are planning to scrap it. This was an aid instrument in a difficult period, when Romania was going through a crisis and faced budgetary issues. But after two consecutive years of economic growth, with the economy heading in the right direction, I was expecting the drugs budget to look better, and, implicitly, the level of claw back to fall, but I see it is going in the opposite direction.
The claw back is paid proportionally based on the market share of a certain player. This is another big problem with the tax, because it is not something you can predict based on your own sales. It relates to what happens on the whole market and requires you to estimate what each player is doing or what significant event might take place, because new patients were enrolled (e.n. on national treatment plans) for hepatitis or oncology, and this could be one of the reasons why expenses went up. It is almost impossible to predict.
What do you think of the National Health Insurance House's (CNAS) plan to pass a differentiated claw back for innovative and generic drugs?
My point of view, as Abbott representative, is that we should first define what innovative and generic drugs are. If generics are all products with expired patents, in principal I support this idea because generic products and those that have competition among generics have another pricing level and another subsidy level. Indirectly, they take less money from the state budget than other companies that have top drugs with higher prices.
I would not see it as a discriminatory decision. The tax would apply proportionally to the budgetary funds used by each player in the market.
Is Abbott active in the educational field?
This is party of our strategy. Every year we have at least one campaign addressing patients about the brands we promote and want to see prescribed on the local market. This is part of our product strategy. From our point of view, there are three key pillars in our industry: the patient, the doctor and the pharmacist. All three need sufficient, relevant and correct information about our drug, the disease it treats and its adverse effects. As Romania develops, we're seeing an increased desire from patients to have control over what drugs they are prescribed or recommended, so correct information for them is very important.
We have carried out some market studies, which show that not only do patients want information, but also that physicians and pharmacists have asked us to carry out more educational programs for patients.
How will the potential update of the reimbursed drugs list impact Abbott's business?
The authorities should in one way or another make sure that the impact of the new list is fair to all players on the market. Undoubtedly, the update of the list without any other change in the market will lead to an increase in the claw back. It is logical, because the drugs budget is fixed so any new treatments that could be more expensive than the market average will lead to a higher claw back. If this is not done in a judicious manner, it could hit us, and we do not have any drug on this new list.
Have you made any proposal to the Ministry of Health, as a company member of the Romanian Association of International Medicine Manufacturers (ARPIM), on how to manage the risk associated with the update of the reimbursed drugs list?
There are ongoing discussions. ARPIM always wants to team up with the Ministry of Health to find solutions to help the system and the patient. Various proposals have been made. For instance, price volume negotiations have been proposed for certain therapeutic areas, or the setting of a certain quantity of product that has to be purchased, or payment based on the efficiency of drugs in certain therapeutical areas.
Former health minister Eugen Nicolaescu said the list of reimbursed drugs would be updated this spring. Do you think this deadline is still valid?
If we look back over the last year, there were more deadlines mentioned. I would refrain from making any forecasts, but hopes are high that it might happen in April, as this was the last promise.
Are parallel exports impacting your business in any way?
There are two aspects here. Parallel exports are legal from the point of view of European legislation on trade. However, each producer makes a production forecast depending on market demand. We have data, either from Cegedim or from our own estimates, on how many patients are using our product and production is adjusted to cover the need. When bigger than normal quantities are exported, then issues emerge surrounding meeting the needs of Romanian patients. From this point of view, we are a little bit worried if it surpasses certain levels.
We are somewhat caught in the cords because from the point of view of the Competition Council, we are not allowed to do anything, but on the other hand we know that what we supply is enough to cover the needs of local patients. It is a delicate situation and we try to control it as much as we can.
Have you had stock supply issues because of parallel exports?
Up to now, there have been no significant problems in our portfolio. We have not had any complaints or distributors saying that the product was not enough or pharmacies saying they did not have enough for patients. But I have heard all kinds of stories in the market.
Especially in the oncology domain?
Yes, but we do not have any oncology products so we have not had to face this problem.
Can the problem of parallel exports be fixed in any way? The government said last year it was planning to ban these exports.
The main problem is the legislation on having the lowest prices in Europe, which personally seems to be the correct approach if we consider the size of the economies of all the countries in the EU. Like it or not, we are, along with Bulgaria, one of the poorest countries in the EU. So I think it is probably normal that a country such as Romania would have lower prices than a developed country such as Germany. But when one producer is making an effort to supply at that price, hoping that Romanian patients are treated, but that drug might actually return to where it came from, then an unpleasant situation is created, to say the least. So one of the solutions we proposed was agreeing for prices – this is currently being discussed – to be brought to the average for the EU or reference countries. This should be the official price, but the reimbursed one would remain in the current system so that the risk of parallel exports could be limited.
Can we hope we will one day see drug producers doing research and development in Romania?
We should have a strategy, not only for health, but in general for drugs and health investments. If a country wants to attract an investor in a certain field, it needs to create conditions for attracting the investor, define a long-term strategy and stick to it. So the investor sees there is a plan, that the investment is protected and that the trained people are there. At present, I do not think we meet these conditions, when compared to other countries in the world. This might happen, but there needs to be political will, a clear action plan.
In terms of talent and geographical position, I think we would be suited to having R&D, and historically we have been a strong country in the production of drugs, but we have lost this over time. Research laboratories are based in developed countries that offer greater predictability for investments, such as Germany, France, Switzerland, the Netherlands and the UK.
What can you tell me about your international management experience?
Prior to taking this position in Romania, I worked in Singapore, where I covered the Russian, Indian and Chinese markets, and the greatest professional benefit was the interaction with other cultures, both at the level of doctors and the public, and inside the company. I have seen other healthcare systems, financing schemes for drugs, and there are great differences between these countries.
Are India and China, as emerging countries, trailing our health system?
It is hard to compare because they must be analyzed separately. From the point of view of social security, India is definitely not on the same level as Romania, while the Chinese market has grown extensively, even during the crisis, so the demand for drugs is very high. There is a component covered by the state, but also an out-of-pocket component, which is paid by the patient, so their social security is not comparable to Romania or other European countries.
[/restrict]