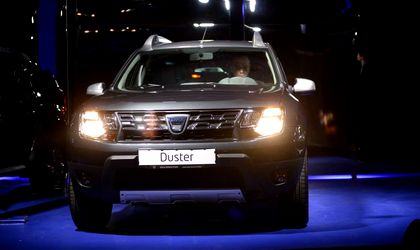 The new Dacia Duster model keeps most of the elements of the 2010 model, but also brings a series of novelties related to the exterior design of the car, engine and interior. For this new model, prices range between EUR 10,900 and 17,000, VAT included.
The new series Dacia Duster will have three trim levels (Access, Ambiance and Laureate) and it will use four types of engines. Besides the 1.2 TCe propeller, it will be also available the 1.6 16 V (105 HP) gasoline block and the Diesel 1.5 dCI of 90 and 100 HP engines.
According to the commercial director of Dacia, Thomas Dubruel, the new Duster will have the best of the engines so far used for the Dacia series, a turbocharged gasoline engine — 1.2TCe with 125 HP, with average fuel consumption 6.2 liters/100 km.
Currently, Dacia Duster is the bestselling model of the company, with more than 470,000 units produced between 2010 and 2013. According to statistics made available by APIA, Dacia produced 81,725 Duster units January through September this year and exported 89,594 of them, states Agerpres newswire.
Oana Vasiliu