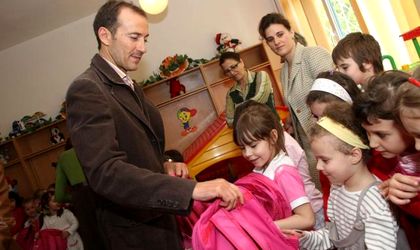 Radu Mazare, mayor of the Romanian seaside city of Constanta, was taken in for questioning on Tuesday in a corruption case. Prosecutors also staged searches at his home and at the Constanta City Hall on  the same day.
Mazare was questioned in Bucharest, after previously he said that the prosecutors are "after him". Mazare became a member of PSD (Social Democratic Party) in 2003 and is currently on his fourth mandate as Constanta's mayor (first elected in 2000, and then reelected in 2004, 2008 and 2012).
The National Anticorruption Directorate DNA has been asking for various documents issued by the Constanta City Hall in previous weeks. Also, the National Integrity Agency (ANI) is currently analysing declarations of assets that mayor Radu Mazare has submitted over the years, according to MEDIAFAX.
DNA chief prosecutor Codruta Kovesi said on Tuesday that her institution officially started a criminal investigation in regards to Radu Mazare's activity as mayor.
"During the course of the morning we've executed 12 searches at the residence of several individuals and one public institution", Kovesi explained.
No details have been released yet regarding the accusations that Mazare is being investigated for.
Radu Mazare is one of the more flamboyant political players in Romania. He's famous for his choice of peculiar clothes, for his love of extreme sports, as well as for his passion for exotic countries like Brazil.
Radu Mazare, detained. Constanta's mayor is accused of taking a EUR 175,000 bribe