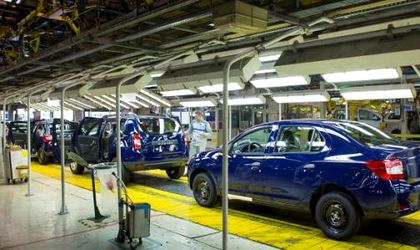 The registrations of new cars in Romania dropped by 2.7 percent in January compared to the same month of 2014, to 4,978 units, while 30,280 Dacia cars were delivered last month, which meant a 7.4 percent increase.
Also, the domestic carmaker's market share maintained at 3 percent in January, according to the statistics of the European Car Makers' Association (ACEA), quoted by Agerpres.
The registrations of Dacia cars in Europe amounted, in January, to 30.742 units, up by 7.4 percent compared to the similar period in 2014 (28.634 vehicles). In 2014, as many as 359.141 Dacia cars were sold in the EU, which was an advance by 23.9 percent from 2013.
Renault Group reported last month a 10.1 percent rise in sales, to 96.852 units.
The sales of German car groups Volkswagen and Daimler increased by 6.6 percent and 14.8 percent respectively, Ford and Toyota deliveries went up by 5.4 percent and respectively 8.5 percent respectively, while PSA Peugeot Citroen reported a 1.5 percent decline in sales.
At European level, new car registrations rose by 27.5 percent in Spain to 68.117 units, by 10.9 percent in Italy to 131.385 units, by 6.7 percent in the UK to 164.856 units and 6.2 percent in France to 133.170 units. According to Mediafax, the most significant increases in new car registrations were recorded in Ireland, with an advance of 30.6 percent, and in Portugal, with an increase of 28 percent.
The statistics refer to the car markets in 29 European countries, out of which 26 in the European Union, without Malta, and three states participate in the European Free Trade Agreement (EFTA): Iceland, Norway and Switzerland.
Staff