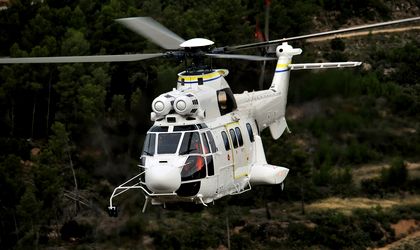 Airbus Helicopters Industries has inaugurated a new 10,000 sqm factory in Brasov, company representatives inform. The factory is designed to host the production of the H215 helicopter, the company's newest model.
"The H215 has a strategic importance for Airbus Helicopters and enables us to provide customers the best helicopter for their needs, with extremely competitive direct operating costs and maintenance," said Guillaume Faury, Airbus Helicopters CEO. "Through this extended partnership with Romania, an important member of EU and NATO, we will ensure that these legendary heavy helicopters with two engines are more economical than ever on current and emerging markets," he added.
Employing 300 people, the Brasov unit production line capacity reaches up to 15 aircrafts a year, with the first H215 expected to be produced in 2017.
"This new 100 percent industrial center of Airbus Helicopters is a valorization of the success stories we have in heavy aircraft maintenance in Romania and cooperation for over 40 years with this country. Our goal is to provide customers a completely new concept and modern business by proposing a new definition of standard equipment for fast production times and better purchase prices," said Serge Durand, managing director of Airbus Helicopters Industries.
Airbus Helicopters is a division of Airbus Group, producing civilian and military helicopters. The company has a fleet of 12,000 helicopters operated by 3,000 clients in 152 countries. With 23,000 employees globally, the group generated EUR 6.5 billion turnover in 2014.
Natalia Martian