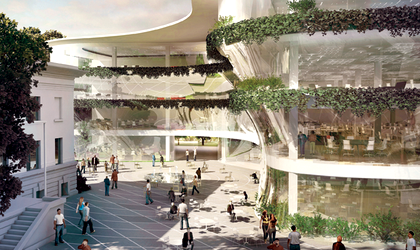 South-African investment fund New Europe Property Investments (NEPI) will begin works on the refurbishment of the Oromolu Mansion in downtown Bucharest and the construction of a nearby business center, the company has announced.
The project will be directed by Romanian architect Dorin Stefan and will consist of a complete refurbishment of the historic mansion as well as the construction of a tree-story extension which will feature office spaces and entertainment areas.
The mansion was built by a former Romanian central bank governor, Mihai Oromolu, in 1927 on a 4,500 sqm plot of land located in Victoriei Square near the Victoria Palace, the government's headquarters.
The mansion, which was damaged by a fire in 2009, and the plot of land are evaluated at some EUR 13 million. NEPI got the property from real estate group Avrig 35 as part of a debt but the transaction's value has not been made public.
"Through the Oromolu project we want to leave our mark on Bucharest in the most concrete and visible way. We have thus chosen to contribute as directly as possible to the reinstatement of an unique architectural style and give back this monument as well as the entire area its interwar charm," said Martin Slabbert, NEPI's CEO.
NEPI's investment portfolio is currently focused on Romania where it has been present since 2007. It has since bought or developed various commercial, office and industrial real estate projects. Its portfolio was estimated at EUR 445 million at the end of 2012.
NEPI's most recent projects in Romania include the Ploiesti Shopping City mall developed in partnership with Carrefour Property, Pitesti Retail Park and Promenada Mall in Braila. On the office segment, NEPI has taken over the Lakeview office building in Bucharest this February and has begun work on The Office project in Cluj Napoca earlier this year.
The fund is listed on the Main Board of the Johannesburg Stock Exchange, the regulated market of the Bucharest Stock Exchange and the AIM market of the London Stock Exchange.
Simona Bazavan