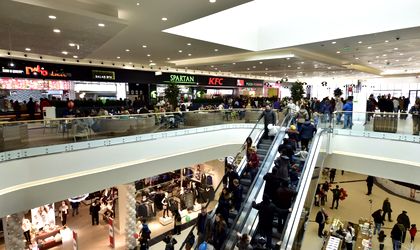 Real estate developer New Europe Property Investment (NEPI) has opened on Thursday Shopping City Piatra-Neamt, following an EUR 25 million investment.
The new shopping center, located in Piatra Neamt city, has a total leasable area of 28,000 square meters and hosts over 70 commercial spaces. French retailer Carrefour has opened a hypermarket with a surface of 7,500 sqm within the new center.
Sebastian Mahu, the asset manager of NEPI, said the retail center in Piatra Neamt was the second one that the company opened this year, after Shopping City Timisoara.
"The project was well-received even before the launch, and in the first year of operations we expect to have over 5.5 million visitors," said Mahu.
Shopping City Piatra-Neamt has two stories and an exterior parking lot with 1,000 places. The center also hosts a multiplex cinema with six rooms. The commercial center generated over 1,500 jobs in Neamt county.
NEPI's portfolio in Romania includes Mega Mall, Mall Promenada, Vulcan Value Center, Shopping City Timisoara, City Park Constanta, Ploiesti Shopping City, Braila Mall, Galati Shopping City, Shopping City Targu-Jiu, Severin Shopping Center, Shopping City Deva. The group also owns the office buildings Floreasca Business Park, The LakeView, Aviatorilor 8 in Bucureşti, City Business Centre in Timisoara and The Office in Cluj.
Carrefour Group has in Romania 283 stores, out of which 31 are hypermarkets.
Ovidiu Posirca