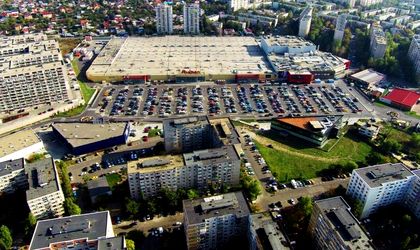 Real estate investment fund New Europe Property Investments (NEPI) has bought the Auchan Titan commercial center in Bucharest from Aberdeen Asset Management AG for EUR 86 million, the company announced this Wednesday.
The retail scheme has a GLA of over 44,000 sqm and it is located in one of the most densely populated neighborhoods of Bucharest. It reports around 33,000 visitors each day. In addition to the Auchan hypermarket, it hosts tenants such as C&A, CCC, Deichamann, DM, Flanco, H&M, NewYorker and Takko. It also features a 7-screen cinema operated by Cine Grand. Auchan Titan was opened in 2007 and was expanded in 2009. Now NEPi says it plans to invest in upgrading the property to its standards.
Following the acquisition of Auchan Titan, NEPI has reached a retail stock of around 184,000 sqm in Bucharest alone. The company delivered this May the 70,000 sqm Mega Mall project in eastern Bucharest while last year it delivered the 25,000 sqm Vulcan Value Centre retail park in the south-west part of the city and it acquired Promenada Mall from Raiffeisen evolution in a EUR 148 million deal.
In addition to shopping centers in Bucharest and outside the capital, NEPI owns several office projects such as Floreasca Business Park and The Lakeview in Bucharest and City Business Centre in Timisoara.
Simona Bazavan